By Neha Sahu, @lookgoodinpcos/
Overnight Carrot & Oats Cake Pudding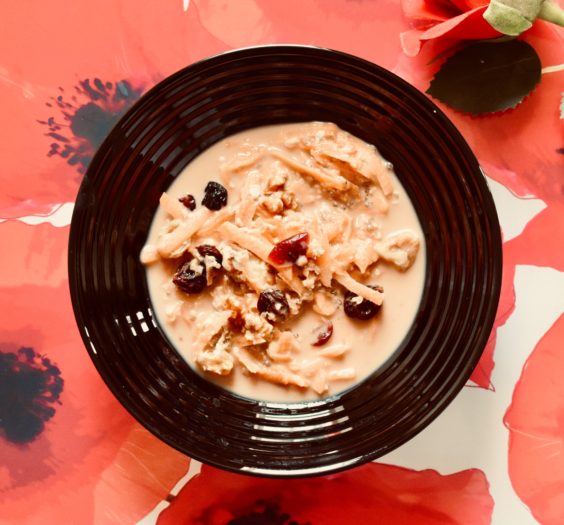 Who doesn't want to enjoy the benefits of veggies without tasting them. Oh yes! I totally understand it. Here is one of the yummiest morning dessert which is not only healthy but super tasty too.
Ingredients

• 3tbsp of shredded carrot
• ½ cup gluten free oats
• 1 cup non-dairy based milk
• 1tbsp maple syrup or golden syrup
• 3 drops of vanilla extract (optional)
• 1tbsp nutmeg powder
• ½ tbsp cinnamon powder
Stir all the ingredients & keep in the fridge overnight
While you are sleeping, oats and carrots are hydrated too!!

Directions
• Stir the goodness & warm a little bit for more flavour
• Add the chopped nuts, almonds, dark chocolate
• Sprinkle few hemp seeds & chia seeds for that extra fibre

Benefits
Carrots are loaded with Vit A & lots of fibre. Milk & seeds adds calcium & protein to the dish. This breakfast bowl is rich in anti-oxidants & soluble fibre.
This bowl of happiness will also keep you full for a longer time so no roaming around kitchen every now & then is an extra advantage too!
Good morning? Green morning Smoothie

Green nourishes your body like a blessing.

Eat your green, drink your green but go green!

Try this green smoothie which is amazing for balancing hormones.

Ingredients

• 1 green apple
• Few spinach leaves
• 1tbsp flaxseed
• 5 slices of cucumber
• Half a banana
• 4 strawberries
• 1tbsp wheatgrass powder
Benefits:
This smoothie is a booster for those fighting with hormonal imbalances.
It boosts fertility & loaded with iron
Wheatgrass helps balance PH levels & makes a suitable environment for ovary
Treats anaemia due to high level of chlorophyll content
Loaded with fibre
Super yummy & refreshing
Consume this green goodness thrice a week & heal from within.
Think Green!
Chia seed pudding breakfast recipe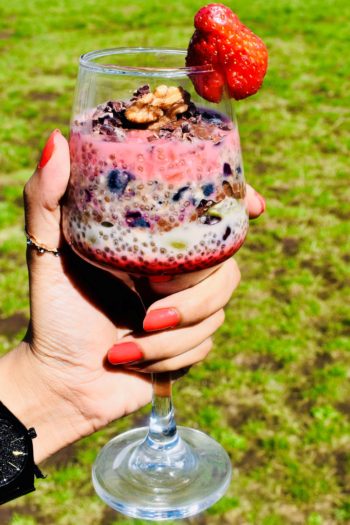 Well begun is half done! Isn't it? What is better than a good kickstart for the day!

Breakfast is the most vital meal of your day. It becomes even more important when it comes to managing PCOS wherein you are mostly drained & need a regular flow of energy throughout the day.
Try this pudding recipe to give a strong commence to your day.

Main ingredients-

• Chia seeds, Almond milk, Gluten free oats
• Nutmeg powder
• Cinnamon powder
• Vanilla extract or peanut butter
• Walnuts or cacao nibs or dark chocolate

For toppings-

• Black grapes
• Strawberries
• Blueberries
• Green Grapes
• (Any fruit of your choice)

Method-

▪ Take a bowl
▪ Add 1 cup almond milk
▪ ½ cup water
▪ Add ½ cup GF oats
▪ Add 1 tbsp chia seeds
▪ Add 1tbsp cinnamon powder
▪ ½ tbsp nutmeg powder
▪ Stir & store in a fridge overnight

Morning ritual-

▪ Take out the bowl of goodness & add some 1tbsp maple syrup
▪ Add few drops of vanilla extract or peanut butter
▪ Mash all grapes & berries to add those colours
▪ Add equal portions of soaked oats to these mashed fruits
▪ Start layering this colourful eat
▪ Add some walnuts & cacao nibs for extra crunch

This plant-based breakfast recipe is full of fibre & protein. It will give you the perfect kickstart & will keep you energetic throughout the day
About Neha:
"I was tired. I was angry. I felt ugly. I felt lonely. I found out I have PCOS. Don't wait for that long. Learn about it & get back on track with me!"