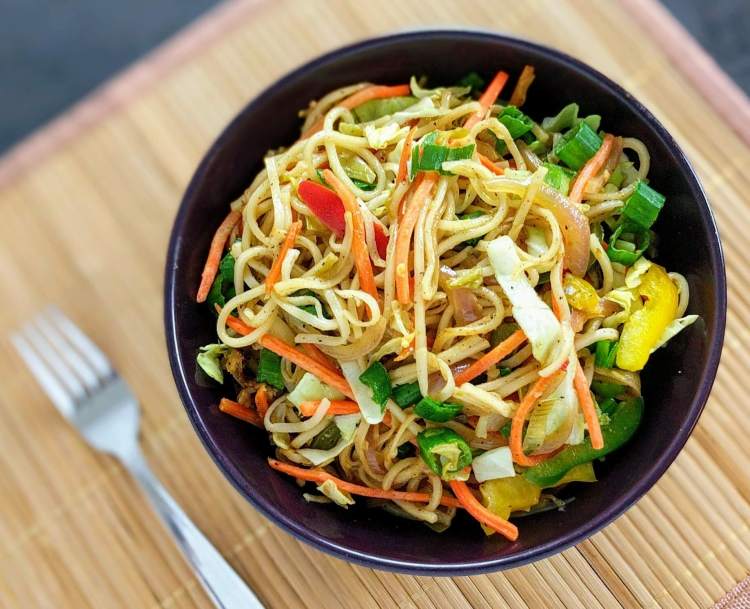 Ingredients
CHILLI NOODLES
100 gms chow noodles – boiled
½ tbsp. oil
3 dry, whole, red chillies – broken into bits
½ tsp chilli powder, ½ tsp salt
2 tsp soya sauce
VEGETABLES
1 capsicum - shredded
1 carrot – shredded
1 cup – shredded cabbage
3-4 flakes garlic crushed and chopped - optional
2-3 spring onions or 1 ordinary onion
3-4 tbsp bean sprouts – optional
½ tsp each of salt & pepper
½ tsp sugar, ½ tsp ajinomoto - optional
1 tbsp soya sauce, 2 tsp venigar
1 cup water
1½ tbsp cornflour dissolved ion ½ cup water
Instructions
Heat ½ tbsp oil in a non-stick pan. Remove from fire; add broken red chillies and chillie powder.
Return to fire & mix in the boiled noodles. Add salt and soya sauce. Fry for 1 minute, till the noodles turn brown. Keep the noodle aside.
To prepare the vegetables, shred all vegetables into thin long pieces.
Heat 1 tbsp oil. Reduce heat and add garlic. Cook for ½ minute.
Add vegetables in sequence of their tenderness – onions, sprouts, capsicum, carrot and cabbage.
Add ajinomoto, salt and pepper. Add soya sauce and vinegar. Cook for ½ minute. Add 1 cup water. Boil.
Add cornflour paste, stirring continuously. Cook for 1 minute till thick. Remove from fire. To serve, spread the noodles on a platter.
Pour the prepared hot vegetables over the noodles. Serve.
Serves
4