Sorbet is an extremely refreshing dessert, especially when it's made with only a few simple ingredients, including fresh fruit. This is the perfect treat on a hot summer day or as a follow-up dish to a spicy Asian meal. And if you aren't a mango fan, you can easily substitute fresh peaches, strawberries, or raspberries.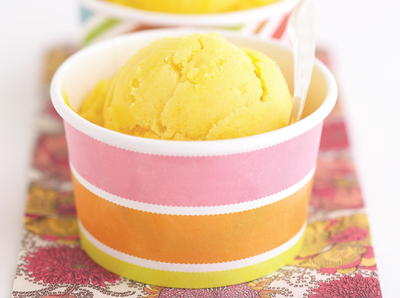 Ingredients
2 ripe

mangoes

1 tablespoon pure

maple syrup

Fresh mint

, for garnish
Instructions
Peel the mangoes using a vegetable peeler and discard the skin. Remove the mango seeds by carefully slicing the flesh off the sides of the seeds. A mango slicer can come in handy for this job.

Put the mango flesh in a blender along with the maple syrup and 1/4 cup water. Puree until smooth.

Pour the mixture into the ice cream maker and process according to the manufacturer's instructions.

Use an ice cream scoop to serve the finished sorbet into small bowls. Garnish with fresh mint leaves.
Serves
4
Notes
From www.cookstr.com