A simple, home-style, Assamese fish curry that is a regular feature during lunch and dinner. It is best enjoyed with steamed rice and a fresh green chilli on the side. 'Tenga' meaning sour is the dominant flavour in the curry.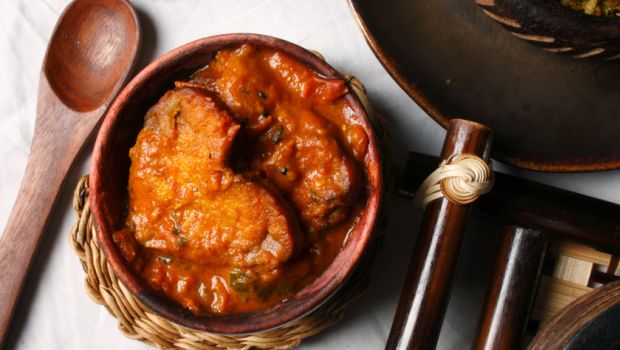 Ingredients
4 pieces Rohu/ Catla fish
1/2 tsp salt
1/2 tsp turmeric powder
1/2 cup mustard oil
1 ridge gourd, chopped
4 large tomatoes, chopped
1/4 tsp fenugreek seeds
Juice of 1/2 a lime or 1 wedge of lemon
Instructions
Sprinkle 1/2 tsp salt and 1/4 tsp turmeric powder on the fish pieces and rub well to coat evenly.
 Heat oil in a kadai, and fry the fish in batches until crisp on the outside and cooked inside.Keep aside.
 In the remaining oil, add the fenugreek seeds and let them crackle on medium heat.
 Tip in the chopped ridge gourd and add 1/4 tsp turmeric powder. Let it cook for 7-8 minutes covered with a lid. Once the gourd softens, add the tomatoes and mix well.
 Cover with a lid and let it cook for 4-5 minutes until the tomatoes are pulpy. You could also use the back of your spoon to mash the vegetables.
 Add 3 cups warm water and turn up the heat. Once the curry comes to a boil, adjust the salt as per your liking.
 Add the pieces of fish and continue boiling to thicken the curry, for 5-6 minutes.
 Remove from heat, and squeeze the lime or lemon juice on top. Garnish with chopped coriander leaves and serve with steamed rice.
Serves
2