The new version of the RIO Heavy Flow pad is super-absorbent, hourglass-shaped, with cottony soft-sheet double (back and side) wings, and an outer disposal pouch for better, stain-free, leak-free, rash-free, and irritation-free periods.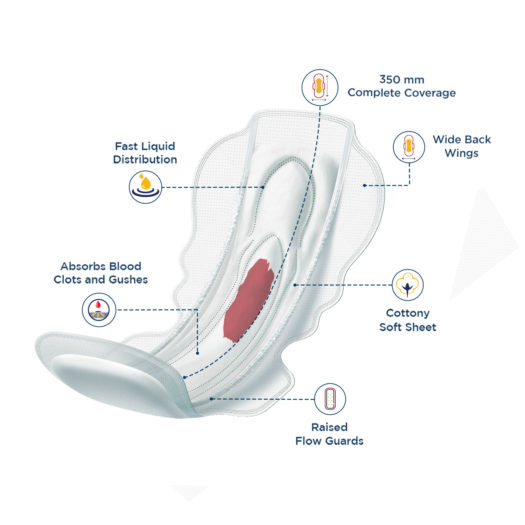 The new features:
The pad's hourglass shaped with fast-liquid distribution channels make sure blood is quickly dispersed and rapidly soaked up. This helps the pad surface remains dry and so that it doesn't stick to the skin.
Double wings: The pad's wings along the side hold the pad in place, while those at the back make sure there isn't any bunching or crimping.
Slimmer and longer: The pad retains its superior absorption while being slimmer and more comfortable to wear.
The RIO pad retains its:
3X absorption of both blood and clots,
flow guards which prevent blood from trickling down the sides of the pad,
Odor lock technology,
Japanese anti-bacterial SAP which locks blood into the pad by converting it into gel form, and
Cottony soft top sheet.
The RIO pad is longer (350mm) and wider than most conventional sanitary napkins to provide thorough back-to-front coverage to users. It is also chemical, latex, and artificial fragrance-free to make sure users' are rash-free, itch-free, and protected.
The pad is available in chemists, retail stores, and on Amazon and Flipkart in pack sizes of:
12 Pads for ₹179.00
24 pads for ₹358.00
36 pads for ₹537.00
For more : https://www.riopads.in/