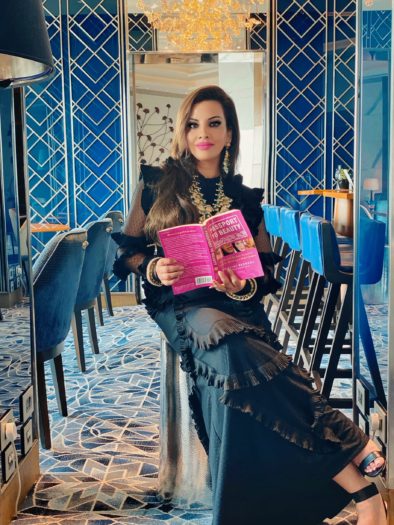 Namita Nayyar
You are the Founder and CEO of Ready Set Jet, a wanderlust-inspired beauty brand built for the Go Generation™ with a strong social impact give back geared to empower and inspire women by using beauty as a vehicle for global change. Please share some insight about the brand.
Shalini Vadhera
Ready Set jet is a brand with a mission to empower women and impact change. The brand was created after I received the Mahatma Gandhi award at the British House of Lords for my work in beauty and women empowerment. Shortly thereafter I came to India for my cousin's wedding and the day I arrived government officials were waiting to meet with me and requested I find a way to create an impact for the girls in India. After doing quite a bit of research I realized that it was time to use Beauty for a higher purpose and that's when I decided to create a new brand with targeted products for the Indian consumer while also taking part in the proceeds to create impact for dis-enfranchised girls in the slums and villages by skilling them and vocationally training them in beauty and entrepreneurship to help them become the next generation of beauty entrepreneurs.
After Covid hit, we realized that the impact with much broader with so many girls reaching out to me on Instagram that had lost their jobs or had been furloughed and needed to find a way to become self-sufficient. That's when we decided to add the online Academy (we are building now but have a Facebook group) where women anywhere in the world could gain personal and professional skills to live their most beautiful and powerful life. We are excited to have an Omnidirectional approach to becoming the best version of yourself through everything Ready Set Jet offers.
The products in Ready Set Jet are revolutionary. They are the first of their kind on the market with interchangeable and customizable packaging. Vegan-powered skincare in every product. Cruelty-free. And we worked with a chemist to create a proprietary formula of marine botanicals that protect the skin from pollution, inflammation, and aging.
www.readysetjetofficial.com @readysetjet
Namita Nayyar
Diet pattern you follow? Any specific diet you seem is idle for a woman.
5 Foods you love to eat & 5 you keep to a minimum.
Shalini Vadhera
I find that when I follow a "diet" I stick to it for a few weeks and then binge on everything I couldn't eat. For me, it's about mindful eating on a daily basis and allowing myself to eat treats in moderation. For idle women, Intermittent fasting is wonderful to stay in shape as well as lowering your carbs. Also identifying foods that inflame your body should be reduced or removed.
I focus on healthy fats like olives and avocados and lean protein.
5 Food I Love To Eat:
Avocados
Anything Mexican! Fajitas
Hummus and Cut Veggies
Thai veggie curries
Dal Makhani & Paratha
5 Foods I keep to a minimum:
Dried fruit ( high sugar)
Candies
Meat
Sodas
Bread