A stunning Bollywood beauty, Shamita Shetty made her debut in "Mohabbatein" with industry stalwarts like Amitabh Bachchan and Shahrukh Khan. Her portrayal of Ishika earned her the IIFA Award for Star Debut of the year. She is three and a half-years younger to her celebrity sister Shilpa Shetty.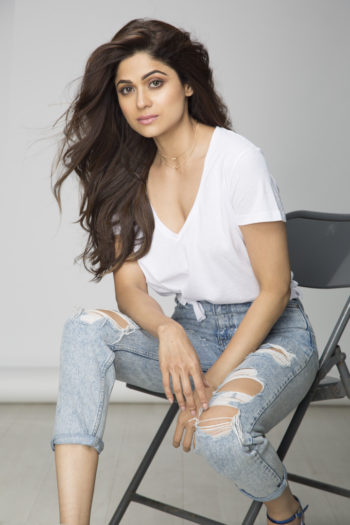 Shamita Shetty has been the cover model for Women Fitness Magazine, India edition. You can check out rge digital copy at https://womenfitness.org/magazine/oct-2018-shamita.pdf.
In her interview she shares 5 must-haves in your wardrobe:
LBD or Little Black Dress:
The little black dress is a power house all by itself. It can be worn to different occasions like dinner, to work, the list is endless.

White T-shirt:
Every woman should have this iconic piece in her wardrobe. It goes for sort of every look, we can call it as an all-rounder. You can wear it with your comfy jeans and sneakers for a casual look or pair it with your favorite pair of shorts or bodycon skirt for a shopping day out. All in all, we can say it's a must-have thing that you can wear in every season either under your leather jacket or with your pants/skirts.

Ripped Boyfriend Jeans:
Today ripped boyfriend is a staple jean in many women's wardrobes. They can be baggy or slim, cuffed or not. This jean style is typically fitted at the hips, with a more relaxed fit through the legs. You can style them to create plenty of fashionable outfits, from ultra casual day off looks, to dressier ensembles that work for date night.

Ripped Shorts:
Shorts are one of the simplest outfits and yet flattering. You can wear it with a loose tank top, a draped one, or a belly top. You have an array of options when it comes to picking up shorts. From ripped shorts to high waist short jeans, tight shorts, and perfect fits, you can choose anyone.

Heels:
They are a girl's best friend. They elongate your legs, and they go with just about anything in your closet. Just grab the ones that are tall but comfortable enough to walk around in.
Catch more about her on her insta-handle https://www.instagram.com/shamitashetty_official/
According to her "Insta is a platform that gives you an opportunity to interact with people directly and know what they think about you. Gives them an opportunity to take a little peak into our world too."