The festival of Eid-ul-Adha will be celebrated on July 21 across India. This recipe of spring rolls is a great option for Iftaar in Ramadan/EID festival. It is a snack made with minced meat (keema) and is a perfect choice with a steaming cup of tea/coffee. Since it baked, instead of fried, it is healthier and equally delicious in taste.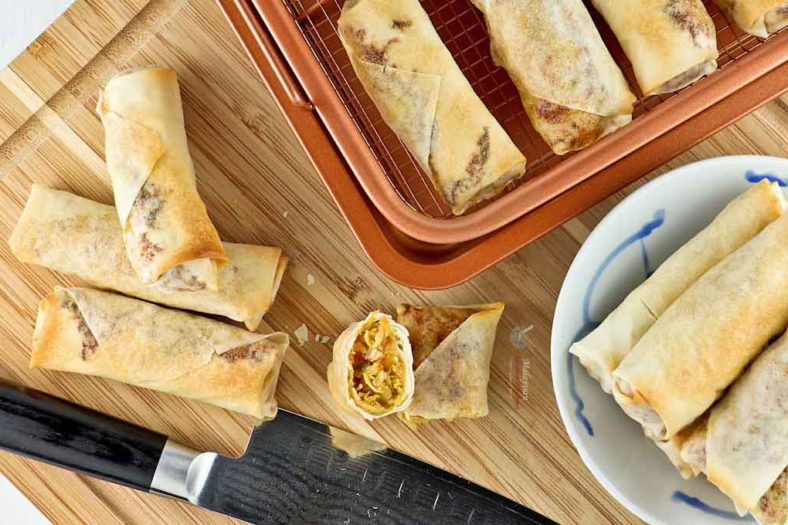 Preparation time: 30 mins
Cooking time: 20 mins
Total time: 50 mins
Servings: 5-6
Ingredients:
250 g minced meat/keema (Chicken/Mutton/Beef/Lamb)
1 medium onion finely chopped
1 tbsp ginger garlic paste
1-2 green chilies, crushed
Salt to taste
3 tbsp chopped coriander leaves/Cilantro
1/2 teaspoon turmeric powder
1 teaspoon chili powder
1 teaspoon garam masala or meat masala
1-2 tbsp oil
10-12 Spring roll sheets
2 tbsp flour paste for sealing
2 tbsp melted butter
Directions:
Clean minced meat under running water for 2 minutes. Drain excess water and keep it aside
Heat oil in a pan. Add onions and saute over medium heat until onions are translucent
Add ginger garlic paste and crushed green chilies. Saute until raw aroma disappears
Add minced meat (keema) and mix well
Saute for 2-3 minutes
Add all spice powders with salt and mix well. Saute for few seconds
Now sprinkle little water, cover and cook until meat is done
Mixture should be dry. Add coriander leaves and mix well
Allow the mixture to cool
Add little water to 2 tbsp flour and make a paste. Keep it aside
While preparing spring rolls, always remember to keep spring roll sheets covered with damp cloth, else it would dry out and harden
Now place spring roll sheets in diamond shape. Place filling towards one side. Apply little water on all 4 sides
Cover like envelope from 3 sides. Apply flour paste towards open end. Roll the sheet tightly and seal it completely
You can now bake the spring rolls. To bake, pace the spring rolls on greased parchment paper on a baking tray
Generously brush melted butter on top
Bake for 18-22 minutes until golden brown in preheated oven at 180 deg cel. You can flip them after 60% time elapses for even browning on all side
Allow to cool for 15 minutes
Serve warm with sauce or green chutney or dip of your choice
Happy Eid!