Sucheta Pal is the First Zumba Master trainer credited for bringing dance & fitness revolution in India. She was awarded by Zumba Miami as a brand ambassador for Zumba in 2016, and one among the 140 select master trainers in the world, she was chosen by Zumba International to lead the TV series called Zoom Zumba Dance Fitness Party (season 1 and 2) in 2015 and 2016. The show made her a familiar face to people in India.
A Recipient of President's Award – "First Lady" for Women Wellness,2018 and TedX speaker. She is a celebrity fitness coach for Gauri Khan, Bipasha Basu, Yami Gautam and has been regularly featured in Vogue, Grazia, The Week-Smart Life, Times of India & Hindustan Times. Her life has been full of high's and low's to serve as an inspiration for women out there.
Women Fitness India got an opportunity to get in touch with the stunning, energy-packed Zumba trainer, Sucheta Pal to talk about her life, passion, work, and much more. Read on.
Namita Nayyar
Today you are India's Zumba ambassador and lead Zumba Education specialist, but earlier as indicated you were into a corporate job. Share the series of events that lead to a sudden shift from corporate to fitness world?
Sucheta Pal
It all started with me falling for the rat race of corporate life without actually giving much thought to if that was really what I wanted in life. But as they say it's a process of self discovery and soon I discovered that although it was a high flying corporate job I was not happy in it at all. Infact I started suffering from social anxiety and acute IBS from corporate life stress and the only relief was when I immersed myself in my childhood passion for dance.
After several years of quite suffering I decided to call it quits, and started my professional dance trainig back in Mumbai at age 25. It was a struggle to make ends meet but I knew I had to hustle from ground zero. Soon we had a turn of events in 2009 and we shifted to the US for my partners work project. Thats where destiny looked at us kindly and I discovered Zumba for the first time. I was hooked, took my license as an instructor and started teaching there.
The CEO of the brand Zumba discovered me shortly and asked me to audition for the role of Zumba Education Specialist (or certified master trainer) for India and that's when life changed completely. I shifted back to India in 2012 with this new role for the brand and entered the Indian Fitness Industry for the first time. It was an uphill task to introduce this group fitness format into every gym, studio of every nook and corner of India and it took years of relentless and consistent work to do so. I had an excellent team by my side and an amazing community of Zumba Instructors in India who collectively made it happen. I am humbled to say that we did it.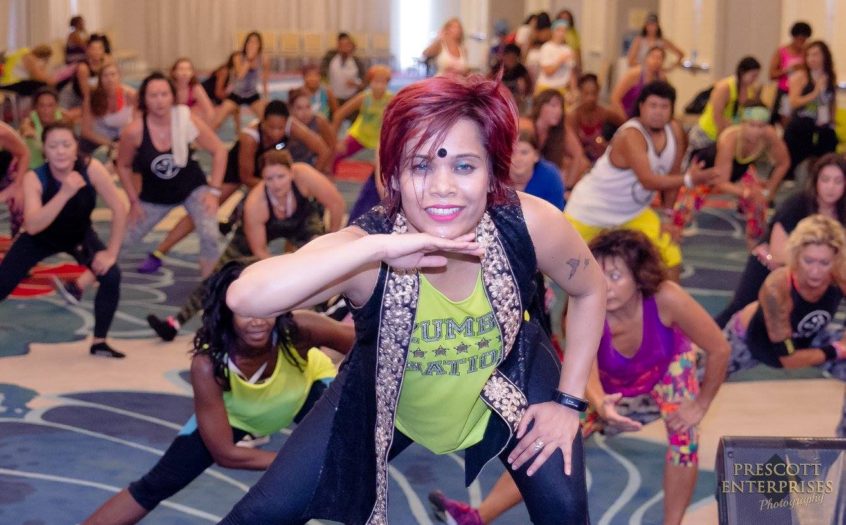 Today Zumba is a household name and thousands of people from dancers to personal trainers and from homemakers to corporate goers have chosen an alternate career with Zumba® as licensed instructors. Its been an honor to train and coach them and I am a proud ambassador of this format which is slowly but surely inspiring thousands of people to move and shake towards a healthier lifestyle.
FULL INTERVIEW ON NEXT PAGE!
This interview is exclusive and taken by Namita Nayyar, President womenfitness.org and should not be reproduced, copied or hosted in part or full anywhere without an express permission.
All Written Content Copyright © 2021 Women Fitness Org