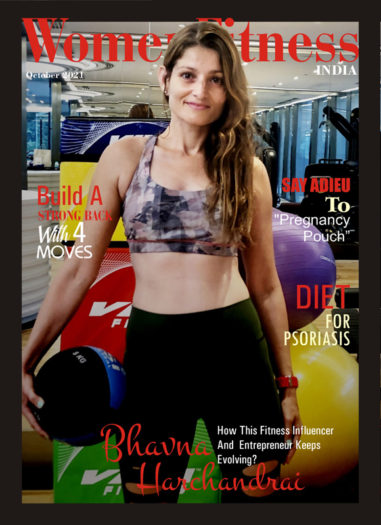 Bhavna Harchandrai has been an integral part of the Fitness Industry for 24 years. Having been the Sports Captain in school, sports and fitness were a natural extension of her life and led her to take it up as a career in 1998.
Bhavna headed Group-Exercise at known gyms such as Golds Gym, Moksh, Pure Energy after which she set up her own fitness studio #fitnessfundas at Malabar Hill, Mumbai.
A thoroughly qualified Fitness Professional, Bhavna has completed certifications and courses from Biokinetix, Cirque du Soleil, Zumba, Boxercise, Balanced Body- Pilates, Power Yoga, Power Plate, Starbound (Trampoline Fitness), Penalty Box Training and is certified in Personal Training by American Council on Exercise.
She recently conducted 'Super Fit Sixty'; a program catering to the well-being of senior citizens along with Dr. Mickey Mehta, the Guru of Holistic Health.
Her mom and baby workout sessions with her client, renowned designer Nishka Lulla gained huge popularity and were a big hit on Instagram.
Her other notable clientele includes members of the Hiranandani, Dhoot, Chudasama, Goenka, Bhimjiani families, Kamal Sidhu (former VJ MTV),Parizad Kolah Marshall (TV host and model), Amalia Akerkar (daughter of Chef Rahul Akerkar)
Women Fitness India joins her for a candid chat over her journey and fitness rituals she swear by!
Ms. Namita Nayyar
Bhavna, you have been in the industry for 24 years How and when did you start your fitness journey?
Ms. Bhavna Harchandrai
I am fortunate to have been an integral part of the Fitness Industry for 24 decades, motivating people to lead a fitter and healthier lives.
For someone who has led an active life for as long as I can remember I made the natural progression from being a Throwball enthusiast to becoming Sports captain of the school.
As a student, I'd save up my allowance to enroll in Aerobics classes when they were introduced to Mumbai in the '90s. And while I studied for Travel and Tourism and MBA,
I consistently kept my classes going alongside. Then while working at Trade Wings and Maersk India, I would regularly see fresh graduates from IIM given mundane clerical jobs with zero time for themselves. Their lifestyle made me wonder how I would be able to manage my fitness regime and career goals. So, I decided to blend the two and make fitness my career.
A girl, one of the regulars at the Aerobics classes had mentioned that her Uncle owned a Fitness studio and he was looking out for someone to manage the place. I took a leap of faith and I quit work in the Travel agency as well as my ongoing studies to pursue Fitness as a career. Bizarrely enough, she did not show up at the classes after that day. I felt like a boat lost at sea, with no direction or land (security) ahead of me. Thankfully, I managed to get her contact after a month of trying, met the owner and that's how my fitness journey began….
FULL INTERVIEW ON NEXT PAGE!
This interview is exclusive and taken by Namita Nayyar, President womenfitness.org, and should not be reproduced, copied, or hosted in part or full anywhere without express permission.
All Written Content Copyright © 2021 Women Fitness Org