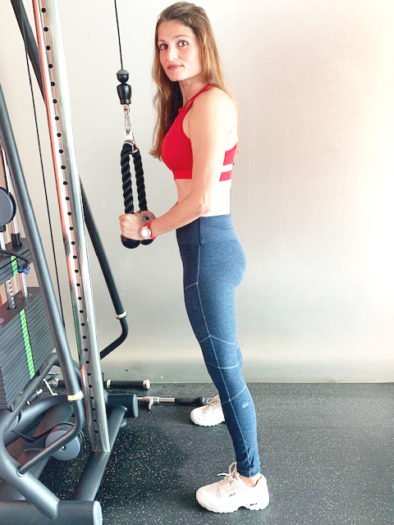 Ms. Namita Nayyar
Women Fitness India talks about celebrity diets and workout regimes, do you follow any particular diet? What is your favorite protein takes both veg and nonveg?
Ms. Bhavna Harchandrai
Some people eat to live while I live to eat. I am in my mid-forties and touchwood,
I have never been on any diet and I indulge in a bar of chocolate daily. My husband's nickname for me is "vacuum cleaner" so you get the drift!
My food habits are very basic, though. I eat simple Ghar ka khana and I avoid cheese, butter, maida, bread. I am also a teetotaller and non-smoker. I include protein and complex carbs in all my meals which keeps me going. I don't encourage fad or celebrity diets amongst my clients too and I give them a basic healthy meal plan complimentary with their membership. I must add that right through lockdown, all of my clients maintained or lost inches whilst staying at home.
My go-to veg protein source is Hemp seeds. It is an all-natural protein will invaluable benefits; aids muscle recovery builds immunity, improves memory, aids digestion, boosts metabolism. I ensure that my son gets his daily nutrition from hemp powder blended in curd or discreetly added to desserts too.
Non-veg – I stick to the basics, eggs, chicken, and fish. I stay away from red meat and shellfish (bad cholesterol).
Ms. Namita Nayyar
How do you plan your workout regime considering your busy schedules? How important it is to incorporate cheat days and relax days
Ms. Bhavna Harchandrai
I follow the principle of KISS. Keep It Simple Stupid.
I devote so much time to planning fresh and varied workouts for my clients that I neglect updating my routines often enough.
I do Hi-Lo intensity cardio and full-body weights on alternate days. (3 days cardio/ 3 days weights)
It is imperative to incorporate a relaxing day so your muscles can reap the benefits of the intense work you have put in all week. A rest day does not mean you lie around in bed all day, it is a day for active recovery. Saturday is my active rest day; I conduct fewer PT sessions, check on my son's school assignments, go for a stroll, run errands, clean my house, do light yoga and meditation.
Invariably, Sunday becomes the day of the BIG workout. I do a post-exercise story on Sundays on my Instagram handle called Sweaty Sunday. It's something I look forward to.
I don't understand why people keep Sundays as their off-day. It is the day that you have more time to devote to yourself; no work assignments, homeschooling, grocery shopping. Why pack in an exercise session into an already busy weekday when you have a free day on Sundays? Something to think about, right?
Ms. Namita Nayyar
You recently turned author for your own upcoming book, tell us more about it
Ms.Bhavna Harchandrai
'5 Fingers of Fitness ' is a book of many firsts. It is the first Fitness Love Story, the first book that makes you completely exercise independent- with tear and keep exercise schedules- right from walking tables to interval training to the gym and home workouts, the first 'Fashion meets Fitness' book that showcases trendy exercise/ gym wear and most importantly the first-ever book to use QR codes, so you can scan and watch short clips of exercises demonstrated.
The book is due to be released in November (fingers crossed!) and I am beyond excited to introduce my FIRST book of FITNESS FIRSTS! (with a surprise desi-tadka added to the script)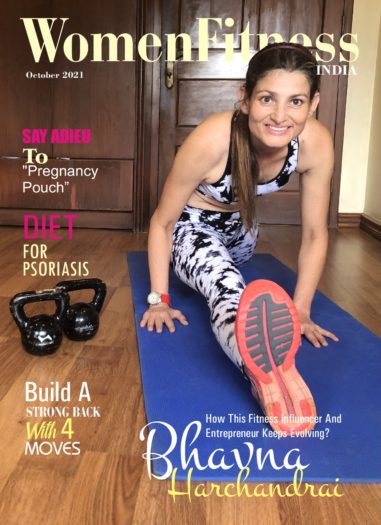 The book is a summary of my collective experiences and learnings from my childhood to date… and I promise you it will be an interesting and 'mazedaar' read.
Ms. Namita Nayyar
What is the change in people's workout habits post-Covid? Workout tips for covid warriors
Ms. Bhavna Harchandrai
Covid did away with over-crowded gyms and packed fitness classes. People started working out at home so workouts became more hybrid. They became more high-repetition and low-resistance since we were working out with our body weight and the light apparatus – dumbbells, bands or things lying around at home during lockdown. Also, the initial fear and uncertainty of Covid made people introspect…workouts became more centred. People moved to yoga, pilates, even Zumba, dance, boxercise because they wanted to just feel good; it was a trying time for all of us.
A positive take-away from Covid was that self-care, balance and introspection became an integral part of workout regimes. Ego lifting and extreme workouts were done away with and 'immunity' and 'moderate-intensity' workouts became key words. Covid made us realise that anything extreme; be it exercise, diet or stress is detrimental to our well-being.
My piece of advice to Covid warriors is to listen to your body. Being a Covid survivor is one thing while full and complete recovery from Covid is another aspect altogether. Post-Covid heart issues, clotting disorders, shortness of breath , brain fog, muscle fatigue and many more complications indicate that we must not rush into exercise regimes post the 14 day period. It can take months to fully recover, so start off slowly, gradually and build-up on strength and stamina over a period of time. Additionally, I vouch for adding hemp-seed powder to your diet to help with post-Covid recovery.
Ms. Namita Nayyar:
Being the cover girl for Women Fitness India, you are an inspiration to many young and mature women, advice you would like to give on prioritizing fitness and staying active ?
Ms. Bhavna Harchandrai
It is my privilege to be the cover girl for Womens Fitness India. I hope to be an inspiration to all the working women, mothers, the 40+ league of women who strive to balance their responsibilities at home, with kids, at work and play the roles of dutiful bahus and sassy, beautiful wives all in one big package.
Staying fit and active no matter what your age gives you the mental strength to perform better in life at work and socially , to overcome adversities and deal with daily challenges. Especially now, during lockdown when everyone was cooped up at home it became all the more important to keep active (body and mind). A healthy body leads to a healthy mind. I advice everyone to exercise regularly, to feel good about themselves and look at life with a positive outlook.
Know More About Bhavna Harchandrai
Grab Her Cover Issue
This interview is exclusive and taken by Namita Nayyar, President womenfitness.org, and should not be reproduced, copied, or hosted in part or full anywhere without express permission.