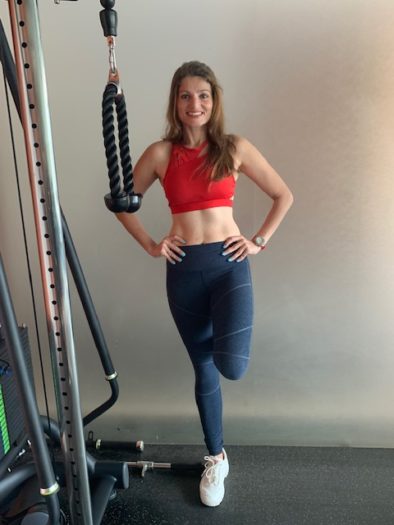 Ms. Namita Nayyar
What do you credit yourself with bringing to the Fitness Industry? What's your USP?
Ms. Bhavna Harchandrai
I was the 1st Fitness Trainer to introduce the concept of Boot-Camp training to India (2006). Subsequently, I introduced Trampoline Fitness (2016) and Penalty Box Fitness (2017) exercise forms to India too.
My grandmother taught me that there is no limit to gaining knowledge and whenever I get a chance to learn an exercise concept; be it Aerobics, Step, Boxercise, Zumba, Power Yoga, mat Pilates, Rebounding (Trampoline Fitness), Penalty Box fitness, or chair exercises for seniors, I do a course in it. I believe that every exercise form has its own principles and benefits and there is always so much to learn and integrate into my sessions.
My USP as you can guess is to teach a different class at every session following the principle of Cross-Training. My class format is a fun Zumba style warm-up, followed by a High-Low intensity cardio segment (which varies from cardio- boxing, step, Tabata, aerobics etc)
and full-body toning (dumbbells, therabands, stability ball, etc), core strengthening, and stretches. Every session is different. It's a great way to inject an element of fun into your fitness regime in a safe, effective way.
I am especially proud of an International Certification by American Council on Exercise (ACE) in 2009 that lead to a subsequent opening of my studio #fitnessfundas for Personal Training and small group classes.
Currently, I conduct customized Personal Training sessions online and I am most excited to introduce fitness for seniors 'Super Fit Sixty' with the Guru of Holistic Health, Mickey Mehta focussing on mobility, easy dance, strengthening, and longevity for the age group 60+.
Additionally, I have recently introduced a YouTube channel for meditation and deep relaxation, free for everyone to access.
Ms. Namita Nayyar
Bhavna, you run your own fitness studio in Mumbai, what has been your motivation behind it, and how important do you feel is for women today to be mentally and physically fit along with being financially independent
Ms. Bhavna Harchandrai
My motivation to open my own studio was embarrassingly a 'monetary' requirement.
I was clocking a full workday at a nearby gym and taking Aerobics sessions post gym work hours for a paltry salary. I had gained the respect and confidence of their elite clientele which was extremely rewarding to me. Once, the gym started defaulting on staff salaries I decided to take matters in my own hands. I cleared out extra space in my house with the help of my housemaid. We physically lifted old tables, cabinets, cleared out upholstery, and such. I invested my savings into purchasing dumbbells, steps, mats; all my savings were maxed out. It was a huge risk to take. I had the verbal assurance of 2 ladies at the earlier gym who wanted to do Personal Training with me; no money down yet. I took the chance and slowly but surely, through word of mouth all my training slots at the studio were full.
My belief is there is no one-size-fits-all approach to your fitness needs. The goal of my studio was to cater to the specific requirements of each client, keeping in mind their fitness levels, workout preferences, any underlying health issues, and goals. I began my studio for ladies only so they are absolutely comfortable working out with like-minded people in a small group. My clients are an extension of my family, we call ourselves a fitness family. Post Covid I began training men and women online.
I encourage every woman to stay physically fit. Fitting into your clothes well, feeling energetic and young, being actively involved in your child's playtime and sports, being a good role model to your kids, and the endorphins that a good exercise session brings along attribute to physical and mental well-being.
Being financially independent is also empowering. To know that you are capable of taking care of yourself. You do not need to ask for permission to get anything you want.
Most vital is that it creates an equal platform between a man and a woman.