If you can't stand that bra bulge anymore, then we are here to help. These exercises will reduce back fat without you stepping out of your home.
While the solution can sometimes be as simple as making sure you're wearing the right size bra or eating a nutrient-dense diet, you can also strengthen the muscles surrounding your bra, which are predominantly the chest and back. In addition, strengthening these muscles will improve your posture and give you a nice little confidence boost.
Beat the Bra-bulge: 4 Exercises
Pushups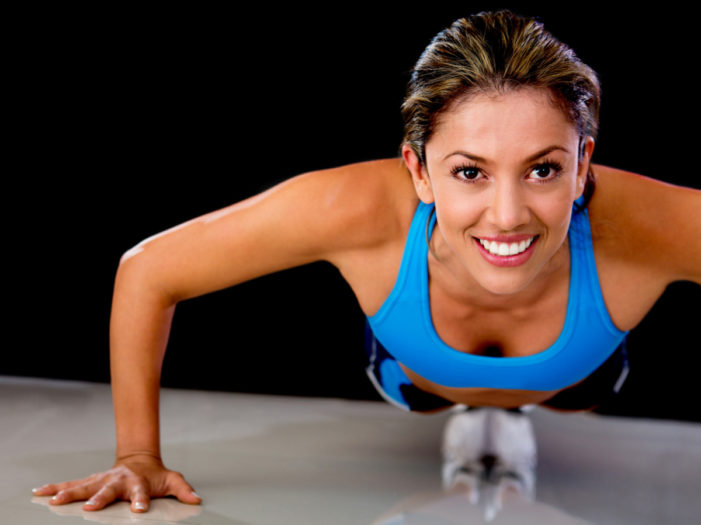 Pushups are hard, but they will torch fat and shred your arms (and abs) in a matter of weeks.
To get started, bring your hands wider than your shoulders with your elbows driving out to the sides. You can choose to do them either on the tops of your thighs (knees bent and feet together) or with straight legs for an extra challenge.
Overhead Deltoid Presses with Dumbbells
Grab your dumbbells and wrap your hands tightly around them.
To get into proper form, stand with your tummy tight and knees bent, and place your arms up in a goal post position—elbows bent and slightly below your shoulders with your palms facing out.
Extend your hands over your head with straight arms.
Your hands should be slightly in front of your face as you bring your arms back down to the starting position.
Chest Presses with Dumbbells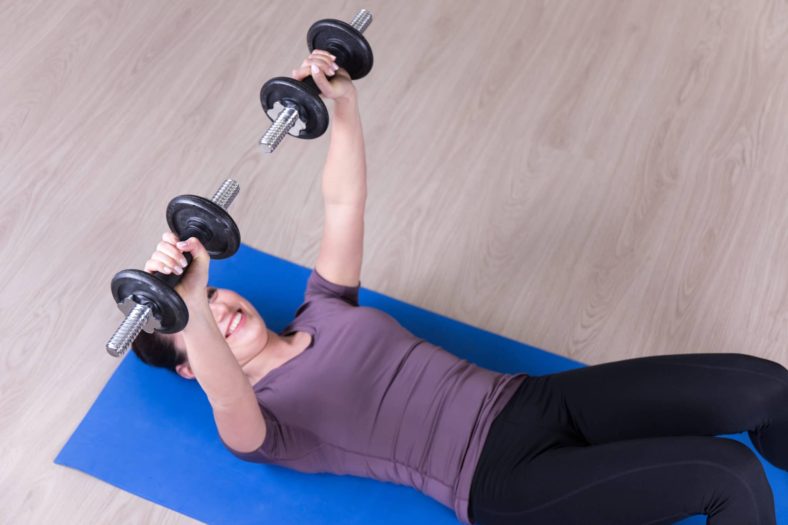 While the focus of this movement is on your chest, you will also feel this deeply in your shoulders.
Keeping the weights in hand, start in that goal post position again. Squeeze your elbows in and stop when your elbows are directly in front of your shoulders to activate the pectoral muscles.
Then, slowly open your arms back up to the starting position, and find a solid stretch in your chest.
Rhomboid Rows with Dumbbells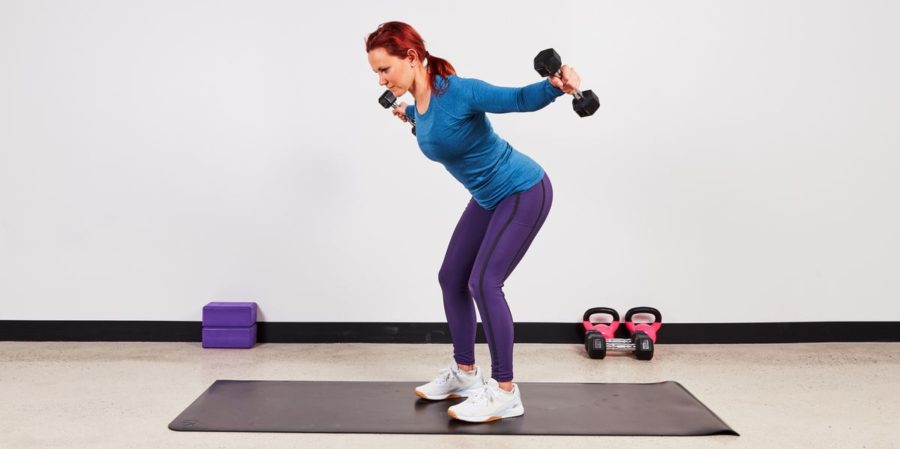 Keeping the weights in your hands, hinge forward at a 45-degree angle, bend your knees, and activate your core.
Bring your hands out in front of you—making a big circle with your arms like there's a beach ball in between—and bring your gaze up to elongate your neck.
Keeping your elbows shoulder high, pull the weights apart, and squeeze your shoulder blades together. Then, lower down to the starting position.
Say goodbye to the "bulge" with these upper body exercises!