This Janmashtami, lets get healthy by making these super healthy dessert swaps. This way you won't even have to worry about your food intake and you can enjoy this beautiful festival, guilt-free.
Barnyard Millet Jaggery Kheer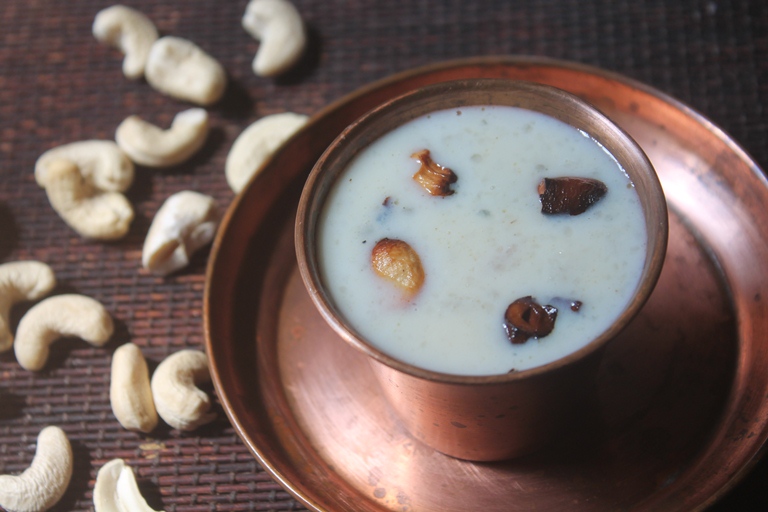 Instead of Rice Kheer
Ingredients
1/2 cup Barnyard Millet, broken variety
2 cups Milk
1/4 cup Jaggery
3 Cardamom (Elaichi) Pods/Seeds
10 Cashew nuts
2 tablespoon Ghee
Method
To begin making the Barnyard Millet Jaggery Payasam Recipe, we will first pressure cook the barnyard millet in a pressure cooker with 1 cup of water for 5 to 6 whistles. It takes a good 20 minutes to cook the millet in the pressure cooker.
Allow the pressure to release naturally and keep the Barnyard Millet aside.
Heat a sauce pan with milk on a medium heat. Add crushed cardamom pods and jaggery into the milk and bring it to a boil.
Add cooked millet as well and simmer the Barnyard Millet Jaggery Payasam for at least 20 minutes until the payasam thickens and has a creamy consistency.
When you get the desired consistency for the Barnyard Millet Jaggery Payasam, you can turn off the heat.
Heat a small skillet, add 2 tablespoons of ghee. Drop in the cashew nuts and toast it until it is golden brown on low to medium heat.
Once cashew nuts are roasted, spoon it over the Barnyard Millet Jaggery Payasam and serve.
Serve the Barnyard Millet Jaggery Payasam Recipe after a wonderful meal to make your Sunday Lunch special.
Source: https://www.archanaskitchen.com/barnyard-millet-jaggery-payasam-recipe
Sweet Coconut Poha
Instead of Coconut Ladoo
Ingredients
Poha – 2 cups
Jaggery/Gud -1.5 cups (broken in to small pieces)
Freshly grated coconut -1.5 cups
Ghee – 2 tablespoons
Saffron – Few strands
Milk to dissolve saffron
Cashewnut -10 (broken)
Cardamom powder – a pinch
Method
Clean and wash poha thoroughly.
Soak poha in enough water and cover for 25-30 minutes. Drain and leave in the strainer and keep aside.
In a deep pan heat ghee and fry the cashewnuts.
To this add coconut, jaggery, saffron and cardamom powder.
Keep mixing till all the jaggery gets melted and the mixture turns golden brown.
Now simmer the stove and add the pre-soaked poha.
Mix thoroughly and keep it for 5 minutes and then remove the pan from heat.
Sweet coconut poha is ready.
Source: Sweet coconut poha by Tarla Dalal
Flax Seed Ladoo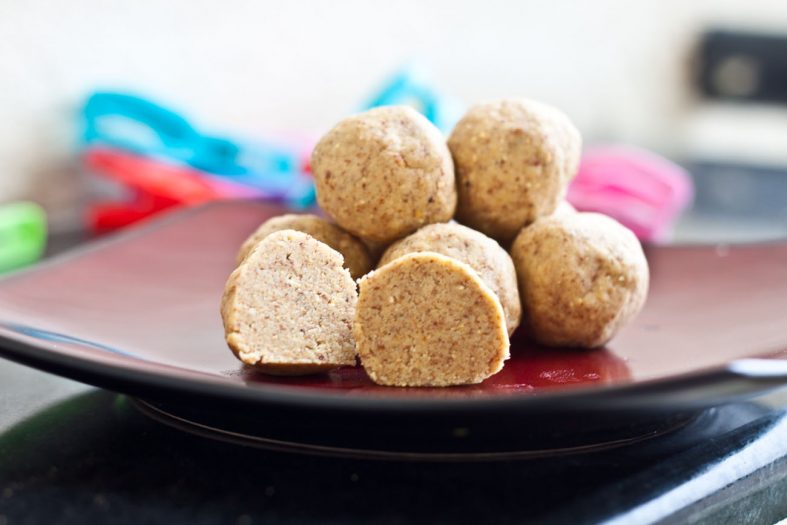 Instead of Besan Ladoo
Ingredients
1 cup Roasted Gram Dal
1/4 cup Jaggery, crushed
1 teaspoon Cardamom Powder (Elaichi)
1/4 cup Flax seed powder (flax meal), (freshly ground)
1/4 cup Almond Meal (Badam Powder)
1/4 cup Ghee
5 tablespoons Ghee
Method
To begin making the Flax Seed Ladoo Recipe, we will first dry roast the already roasted chana dal until it releases the roasted aroma and slightly changes its color.
Allow the roasted gram dal to cool down and powder it.
Keep all the remaining ingredients powdered and ready to be combined to make into a ladoo.
Next in a large bowl, combine all of the ladoo ingredients including roasted chana dal powder, jaggery, cardamom powder, flax seeds powder, almond meal and ghee.
Knead using your hands until it holds into a ball of mass. Keep kneading until you can make lemon size balls of the flax seed ladoos.
The heat in your hands will help all the ingredients to bind itself together. So resist adding more ghee and add only if needed
Roll them into lemon size balls and the flax seed ladoos are ready. Store the ladoos an air tight container in the refrigerator.
Serve the Flax Seed Ladoo as a Dessert for any festive occasion.
Source: https://www.archanaskitchen.com/flax-seed-ladoo
Anjeer Basundi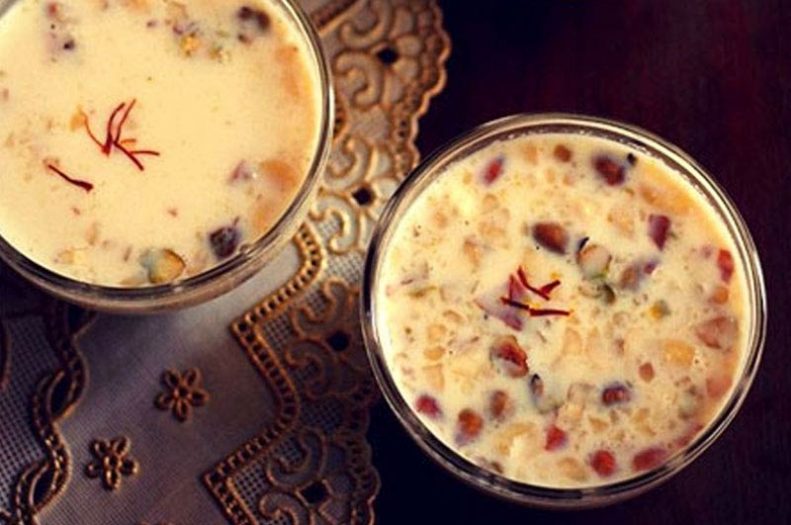 Instead of Kesar Basundi
Ingredients
4 cups low fat milk
1 1/2 cups finely chopped fresh figs (anjeer)
1 tsp lemon juice
1 tsp cornflour dissolved in 1 tbsp low fat milk
1/2 cup low fat mava (khoya)
2 tbsp sugar substitute
For The Garnish
Method
Refrigerate the fig pieces to chill.
Pour the milk into a broad non-stick pan and bring to a boil. Simmer over a medium flame stirring continuously.
Add the lemon juice drop by drop to the milk stirring continuously. You will see tiny curdled particles, which are required for the grainy texture of basundi. Do not add the lemon juice all at once, if you do so the milk may curdle completely and you will get bigger curdled particles, which is not desirable.
Add the cornflour mixture, khoya and sugar substitute and mix well and simmer for another 1 to 2 minutes.
Cool and refrigerate for at least 1 hour.
Add the chilled figs to the cooled thickened milk and mix well.
Serve chilled garnished with fig slices.
Source: https://www.thehealthsite.com/fitness/healthy-janmashtami-recipe-anjeer-basundi-76826/
Lemon Turmeric Energy Balls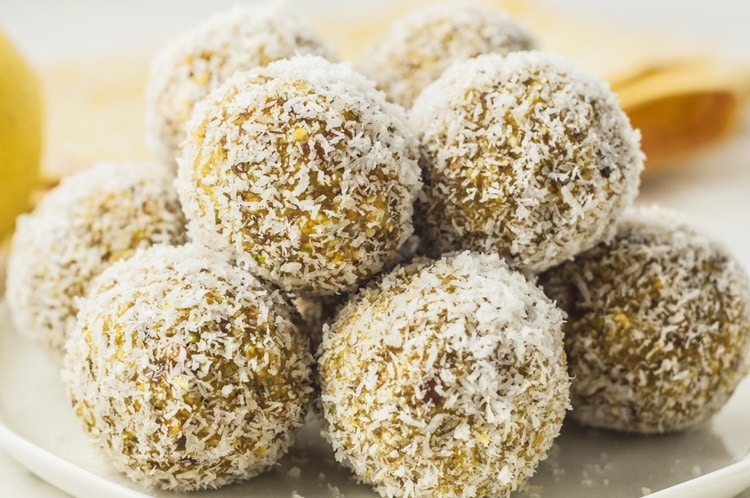 Instead of Panjeeri Ladoo
Ingredients
12 Medjool dates
1 cup rolled oats gluten free
½ cup almonds
1 tablespoon chia seeds
4 tablespoons lemon juice
1 teaspoon lemon zest
1 teaspoon vanilla extract
1 teaspoon turmeric powder
Pinch of black pepper
½ cup shredded coconut for dusting
Method
Remove the pits from dates and soak them in hot water for several minutes. When the dates are softened, drain them and place in food processor. Save the water.
Add the other ingredients to a food processor and blend until mixture turns into a dough-like consistency. Add 1 tablespoon of water in which you have soaked the dates if the mixture is too dry.
With the small spoon scoop the mixture and roll into balls. Roll the balls in shredded coconut and place on the baking sheet.
Store energy balls in an airtight container in the refrigerator until serving.
Source: https://www.natalieshealth.com/lemon-turmeric-energy-balls/
Roasted Caramelized Makhana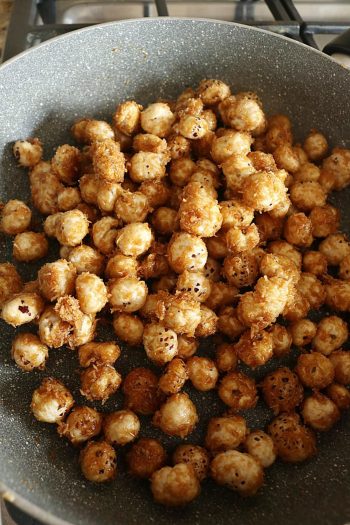 Ingredients
4 cup makhana (fox nuts, lotus seeds)
3 Tbsp oil
1 tsp salt
6 Tbsp sugar
2 Tbsp almonds (sliced)
Method
Use a larger frying pan then you think you need, because it makes it easy to roast otherwise when you are roasting makhana will be dropping all over. Use heavy frying pan.
In a frying pan take the makhana and drizzle with the oil, (save 2 teaspoons of oil and set this oil aside we will use later) and sprinkle the salt. Using your fingers mix it well until makhanas are coated well with oil and salt.
Open the heat to medium low keep stirring till they are very light gold this should take about 6-8 minutes, try one makhana to make sure they are crispy. As they cool of, they will become crunchier.
Remove them from frying pan, you will notice most of the salt will remain in the frying pan, wipe the frying pan, we will use it again.
Use the same pan, heat over low medium heat. Put the oil we have saved in the frying pan, and sprinkle all the sugar, wait till you see sugar has start melting, now stir the sugar and keep stirring till the sugar has melted turn off the heat quick otherwise sugar will burn.
Add almonds and roasted makhana, keep stirring till all the makhanas are coated with caramelize sugar and almonds. Spread it over non-stick surface and with spatula keep separating or separate with your fingers. Carnalized Makhanas are ready.
Source: http://www.manjulaskitchen.com/roasted-caramelized-makhana/