With stress on socially-distanced & sustainability, health and food safety, benefits of plant-based eating, especially in relation to the coronavirus. Cooking recipes this Eid is advocated by many with the plant-based meat alternative, as it is a good or even better option than with mutton and beef.
Chickpea Tikka Masala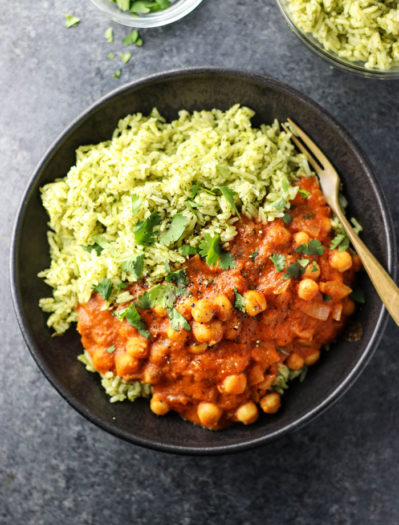 This delicious (and Vegan!) Chickpea Tikka Masala recipe hits the spot when you're craving Indian food. Serve it up over rice and garnish with plenty of fresh cilantro!
yield: 6 cups
Ingredients

For Cauliflower
3 cups cauliflower florets (about half a head)
1 tablespoon coconut oil, melted
2 teaspoons garam masala
1/4 teaspoon table salt
For Chickpea Masala
2 tablespoons coconut oil
1 medium yellow onion, finely chopped
3 medium tomatoes, chopped
1/4 cup minced cilantro stems and leaves (reserve some leaves for garnish)
4 teaspoons garam masala
1/2 teaspoon table salt
1 (14-ounce) can crushed tomatoes
5 large cloves garlic, peeled and grated
1 two-inch piece of ginger root, grated*
1 tablespoon red wine vinegar
1 1/2 cups cooked chickpeas (or one 14-ounce can)
2 tablespoons full fat coconut milk
Reserved cilantro leaves for garnish
Instructions
Preheat the oven to 375 degrees Fahrenheit. Place the cauliflower in a medium mixing bowl and toss with 1 tablespoon melted coconut oil, 1/4 teaspoon salt, and 2 teaspoons of the garam masala. Transfer to a baking sheet and roast for 30 minutes, turning once halfway through the cooking time.
Set a large skillet over medium-high heat. Melt two tablespoons of coconut oil in the pan. Once the oil is shimmering, add the onions and cook for 3 minutes to soften. Add the fresh tomatoes and cilantro; season with a pinch of salt. Cook, breaking up the tomatoes with a wooden spoon, until the water has evaporated and the tomatoes appear dry (about 5 minutes).
Add the garam masala to the pan, stir well, and cook for 1 minute to toast the spices. Immediately add the canned tomatoes and a half-can of water. Allow the mixture to come to a boil, then turn the heat down to medium-low. Add the garlic, ginger, and red wine vinegar. Simmer for 10 minutes, or until the cauliflower has finished cooking.
Transfer half of the sauce mixture to a blender and puree.** Return the sauce to the pan. Fold in the chickpeas and roasted cauliflower. Taste and add salt as needed. Add the coconut milk and simmer for another 5 minutes to infuse the flavors.
Garnish with remaining cilantro leaves and serve over a bed of cooked basmati rice.
Notes

*If you keep your ginger in the freezer it is a lot easier to grate! I use a microplane grater for both the ginger and the garlic.
**Alternatively, use a handheld immersion blender to puree about half the sauce in the pan.
Ref: https://thewanderlustkitchen.com/vegan-chickpea-tikka-masala/
Blackbean & Pineapple Burger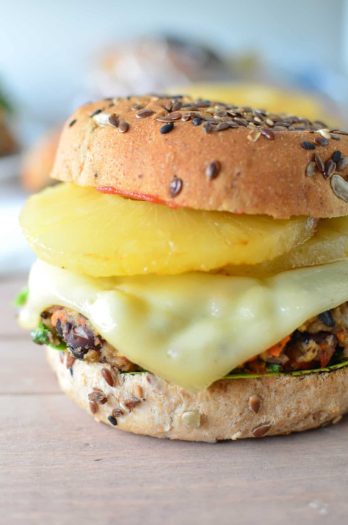 Ingredients
1 ½ cups cooked black beans (15 oz can, drained and rinsed)
1 cup old fashioned oats
¼ cup red bell pepper, diced
¼ cup onions, diced
1 Tbsp vegan Worcestershire sauce
1 tsp chili powder
½ tsp garlic powder
1 tsp smoked paprika
1 tsp steak seasoning
pinch cayenne pepper
3 Tbsp ketchup
Sprinkle of brown sugar
Instructions
In large bowl, mash black beans with a potato masher.
Dice onion and red pepper.
Add all ingredients to bowl with black beans.
Mix thoroughly, and use your hands to knead them well.
Form into patties. Line a baking sheet with parchment paper and bake at 350 degrees F for 25 minutes. You can also pan fry in non-stick skillet
Pan-fry your pineapple rings with a sprinkle of brown sugar.
Add your cooked burgers and pineapple slices to a bun with onion, lettuce, tomato, and your favorite condiments.
Source: https://www.milliondollarvegan.com/recipes/aloha-blackbean-pineapple-burgers/
Tofu and Sweet Pepper Shish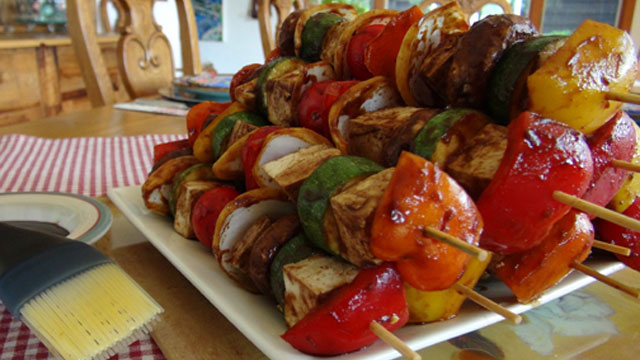 This jazzy shish kebab will satisfy vegans and meat-eaters alike.
Yield: 8-10 servings
Ingredients
BBQ Sauce
1 cup organic ketchup
1 teaspoon balsamic vinegar
1 teaspoon tamari
1/3 cup molasses
2 teaspoons brown sugar
1 teaspoon chili powder
¼ teaspoon garlic powder
1/16 to 1/8 teaspoon cayenne
Kabobs

10 metal or bamboo skewers
1 ½ blocks firm or extra firm tofu, pressed and drained
3 sweet peppers, seeded and cut in 1 ½ inch pieces (orange, red and/or yellow are nice)
2 medium sweet onions, cut into chunks
2 medium zucchini, cut into ½ inch thick slices
16 ounces crimini mushrooms, cleaned and stems removed
10 cherry tomatoes

Directions
Place the barbecue sauce ingredients into a medium bowl and whisk until the sauce is smooth.
Place the drained tofu onto a cutting board and carefully slice it into 36 uniform size cubes. Spoon the tofu into a large bowl and top it with ¼ cup of the barbecue sauce. Carefully toss the tofu to coat each cube with some of the sauce. Toss carefully, as to not break the tofu cubes. Cover and chill at least 1 hour, or up to 2 hours, to marry the flavors.
Place the peppers, sweet onions, zucchini, mushrooms and tomatoes into a large bowl. Top with ¾ cup of the sauce (leaving about ½ cup in reserve) and toss to coat each veggie piece with the sauce. Cover and chill at least 1 hour, or up to 2 hours, to marry the flavors.
Prepare two metal or bamboo skewers for each person. If you are using bamboo skewers, place them in a pan and cover them with filtered or spring water. Let the skewers soak in the water for at least 30 minutes prior to assembling the kebabs, in order to prevent them from burning.
Cover two medium or one extra large baking sheet with foil or un-bleached parchment paper.
One to two hours before cooking the shish kebabs, take the ingredients out of the refrigerator and carefully thread the veggies and tofu onto your skewers in the following order: pepper, tofu, zucchini, mushroom, onion, pepper, tomato, onion, tofu, zucchini, onion, mushroom, and pepper
Place the kabobs on the prepared baking sheets. If you are not baking or grilling them immediately, place the sheets back into the refrigerator until cooking.
If grilling: place the kabobs on the grill. Grill the kebabs over medium heat for about 20 minutes, or until the veggies are crisp-tender and the tofu is slightly crisp and golden in color.
If using an oven: preheat the oven to 400 degrees F. Leave the kabobs on the baking sheets and place into the preheated oven. Bake for 30 to 40 minutes or until the veggies are crisp-tender and the tofu is slightly crisp and golden in color.
Serve immediately over quinoa or brown rice.
Tips/Techniques
It is necessary to use firm or extra-firm tofu for the shish kebabs. Extra firm is preferable. (Medium or soft tofu will break apart while cooking.) It is important to drain the tofu well before tossing with the sauce, so it will properly absorb the BBQ sauce.
Source: https://www.pbs.org/food/recipes/tofu-and-sweet-pepper-shish-kebabs/