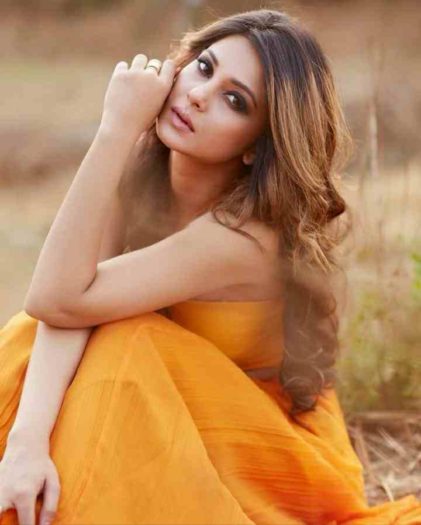 Ms. Namita Nayyar
Women Fitness India, talks about celebrity diets and fitness, do follow any special/ particular diet? 5 tips on how you conquered the habit of night munching. Also your all-time favorite cuisine.
Ms. Jennifer Winget
You know there was a time when I could proudly say that I didn't have to do much to stay in shape, but times change and how! (laughs)
Now the upkeep takes a lot of hard work 🙂 and although I wouldn't call myself a gym fanatic, I do thoroughly enjoy my time with pilates and yoga. It's also taken a pandemic for us all to realize the importance of health and wellness even more. As far as food habits are concerned, I do occasionally have a tryst with binge eating. And 2020 was a true and thorough testament to that. I normally go easy on myself in between projects, keeping consistent with my workouts and diet but with a binge here and there. But when I start prepping for a project, I make sure to follow a no sugar, low carb diet with no night munching and I find that the best way to do that is to turn in early for the night. So an early dinner for me consists of a soup and salad with some a grilled protein and then it's lights off for me:)
Ms. Namita Nayyar
How do you keep up with your mental wellbeing? You like to unwind your day with.
Ms. Jennifer Winget
I don't give up easily! You have to believe in yourself, your potential. And some days it's tough but in these weird and uncertain times it's not easy to always be positive so I allow myself that too. Some positive self-indulgence goes a long way! I feel what I feel and what isn't within my control, I just let that slide and move on to what brings me peace and happiness at that moment. I don't take people's opinions to heart or too seriously – good or bad; and that has really helped me to keep going and do what I do with honesty and give it my best. I thoroughly look forward to unwinding my day with some playtime with my pup, watch something light, and till it's bedtime! I'm an early sleeper. Can't stay up too late unless I have to.
Ms. Namita Nayyar
Share the fitness routine that you follow? Do you prefer functional or weight training? How do you manage your exercise routine with shoot schedules? As indicated you are a fan of Yoga practice, asanas you must do on regular basis.
Ms.Jennifer Winget
I have been religious practicing pilates for the last 3 years and I absolutely love it! For me it's never just been about lifting weights, I do enjoy that bit of a workout occasionally but what matters more is flexibility, endurance, and strength together. So keeping that in mind, I do my pilates thrice a week, and in between is when I practice yoga, go for a run or work out with the help of some YouTube videos (built-in the habit of that all through last year and found that it works for me) Although when I'm working it gets difficult to maintain this schedule but I try to fit in a short run or light cardio after I wrap my workday.
Ms. Namita Nayyar
Please share the secrets behind Jennifer Winget's flawless skin – 5 make-up tips to look natural & fresh?
Ms. Jennifer Winget
While we curse this lockdown all we want and rightly so, I am also very happy that it gave my skin a break from makeup and gave it some much-needed TLC. I learned to really take care of yourself you have to go back to what mommy used to do for you. Homemade face packs work wonders for me. And it's so easy and accessible, right out of your home pantry! For makeup what works for me is the natural dewy look which is my favourite go-to look. Nothing too glam and over the top for Jennifer! For a night out, which I anyway don't do too many off or not at all, I would just pop on a nice Cherry red lip to match my hair and keep my eyes basic when you have a strong lip colour and nude lips go well with dark smokey eyes. The look I am currently digging right now is when I just thicken my brows, dab on some cheek tint, few strokes of mascara, and Voila! Done!
Ms. Namita Nayyar:
You are an inspiration to many young girls. Being the cover girl, what message you would like to share for aspiring actors wishing to enter the industry
Ms. Jennifer Winget
It's never easy! 🙂 You have to be your own cheer leader and believe in yourself, sometimes even when nobody does. Always, Always, have immense gratitude for what you have with you – your family, friends, earned respect and how far you've come since you set out. Count the small milestones, personal and professional. As with actors, our job is to sell emotions and inevitably so, sometimes we tend to get caught in the "drama" of life ourselves, but once you're on set everything should fade in the background . It's just you and the character you play. Nothing else! Immerse yourself in the experience, enjoy the ride. The perks will follow!
Ms. Namita Nayyar:
Social media is both a Boon and a bane. With 10.8 million followers (and counting) on your Instagram handle, how do you keep up with the trolling and negativity
Ms.Jennifer Winget
When I say that I don't take people's opinions very seriously, I mean it! While I am very grateful for all the love, support, adoration, and positivity that I receive, I know who I am and couldn't be more blessed to have a very strong support system of friends, family, and peers to let any trolling or negativity affect me. It comes with turf. Everything you say or do needs to come from a place of positivity, sensitivity, whilst speaking or putting out your mind. As an actor, you are an influencer, you set an example, and are in a place to persuade change, coax or dissuade things. You have to have that reality check, that makes you accountable for the change you wish to see. Though not very avid or regular, I can definitely confirm, that this has been a boon for me.
Ms. Namita Nayyar
Lastly, Women Fitness India completes 22 years in the industry, the message you would like to share for our readers on prioritizing physical fitness and broadening the horizon on women health in our country
Ms. Jennifer Winget:
Brilliant! A big congratulations for two whole decades committed to empowering women. I am honored and proud that I get to be on the cover. All Id like to say is whether you're a man or a woman, Fitness is something we should all aspire to have in our lives. As women, our bodies go through so much change every few years, which makes it even more important to pay attention and listen to our bodies and work for them accordingly. Remember always, to never compete with anyone but for ourselves. I feel mentally and physically stronger and checking a major goal box?! So here's to being the best version of ourselves!
Know More About Jennifer Winget
This interview is exclusive and taken by Namita Nayyar, President womenfitness.org, and should not be reproduced, copied, or hosted in part or full anywhere without express permission.