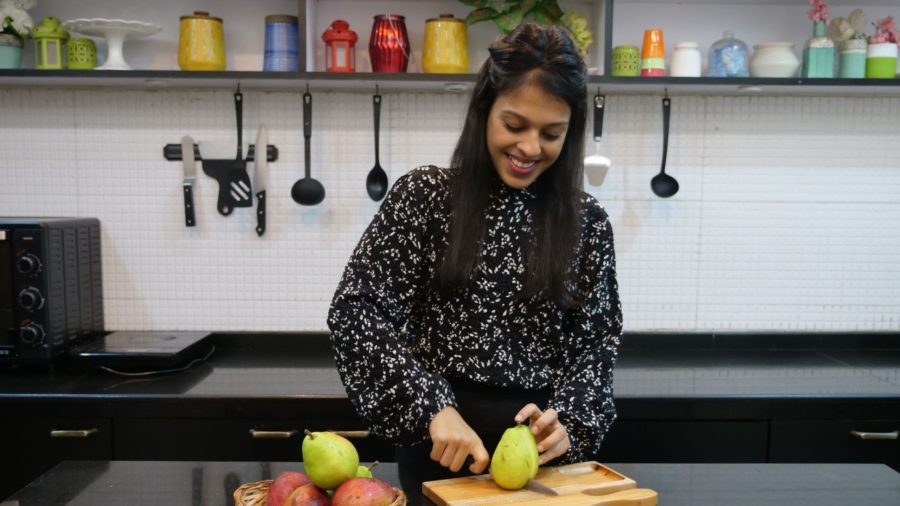 Ms. Namita Nayyar
You did a sit-down dinner for the Embassy of Italy in India in 2017. In January 2018, you were chosen to cook the dessert for the dinner hosted by PM Narendra Modi for delegates from all around the world at Davos, Switzerland for the World Economic Forum. What was your experience like? Share two memorable moments?
Ms. Kirti Bhoutika
It was a great experience and also a great confidence booster. It showed me that passion and hard work can get you anywhere. In both the experiences, what was most memorable was the fact that I got to curate the dessert right from start till the end myself without any help. I worked in different kitchens with different teams of chefs, in a city completely out of my comfort zone. The dessert was very appreciated by the chefs and guests and that made my day.
Ms. Namita Nayyar
You run a food show, 'Food Fiesta' on the food channel, FoodXP. What is the experience like? Tips for enjoying desserts with ingredients that are healthy and filled with nourishment?
Ms. Kirti Bhoutika
Cooking for the camera and cooking at home are two completely different experiences. It is not as fun as it looks like when you are cooking for the camera. `It takes a lot of effort to make food look camera friendly. But i enjoy the process. To make regular desserts healthy-
switch butter and oil with healthy fats like EV olive oil or virgin coconut oil.
switch refined flour with whole wheat flour, nut flour, or whole-grain flour.
switch white sugar with jaggery, organic honey, fruits, or dates.
Ms. Namita Nayyar
Your future plans & projects?
Ms.Kirti Bhoutika
Currently, I am concentrating on taking my bakery to new heights. My new show 'ITS SUMMER' is also live on foodxp. Also, creating more social media content for my channels in on the books.
Ms. Namita Nayyar:
Message for WF followers & your fans on healthy cooking & nutrition?
Ms. Kirti Bhoutika:
Keep it simple and less time consuming. Use local and everyday ingredients and make interesting food. That is the only way for making healthy eating sustainable.
Know More About Kirti Bhoutika
This interview is exclusive and taken by Namita Nayyar, President womenfitness.org and should not be reproduced, copied or hosted in part or full anywhere without an express permission.
All Written Content Copyright © 2021 Women Fitness Org