N.N.
5 Key before & after stretches for any swimmer to enhance performance & recovery.

M.N.
Recovery is as important as training for any athlete. It prepares you for your next practice session. You can only perform well in your competitions if you've properly trained for it and recovery plays an important role in it.
Warming up before training is very much required Dynamic warm up and some rotator cuff exercise is always recommended before training so your shoulders are prepared to take the load of the workout without getting injured.
You could also do some scapula stabilizing and core exercises before jumping in.
Post swimming, stretching and foam rolling is very important. It flushes out the toxins out of the muscles.
Getting a light massage is also recommended.
Icing the shoulders and any areas which are more fatigued due to training helps in faster recovery.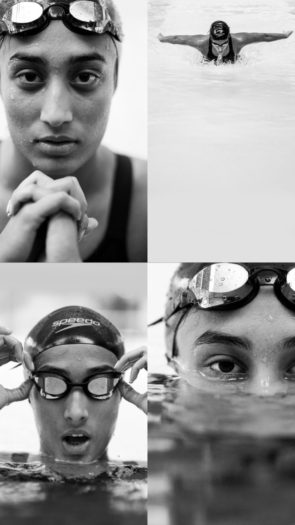 N.N
Proper Nutrition is of utmost importance. Throw some light on the kind of diet you follow on a daily basis. Foods you keep to a minimum. Supplements you believe are a must.
M.N.
Diet also plays a key role in an athlete's life. I try and have a balanced diet. I'd definitely recommend all athletes get a blood report done to check their vital levels. It's very important as a part of your recovery.
Supplements that I believe are a must are – iron and magnesium tablets, multivitamin and fish oil tablets along protein powder. Then whatever else is lacking as per your blood report. During training, I focus on consuming a good amount of protein along with greens, and during my competition, I focus on getting a good amount of carbs for instant energy.
Foods that I stay away from are excess unnatural sugar I.e. pastries and chocolate and packed chips, butter, and cheese. Although everything in moderation is fine athletes should refrain from having such items.