Ridheema Tiwari is an Indian television actress. She is known for her roles of Rasika in Do Dil Ek Jaan, Disha in Sasural Genda Phool, and Maldawali in Life OK's Series Ghulaam. She is also known for her Bollywood Debut in 2017 for the film Begum Jaan.
With her amazing acting contribution and her sizzling looks over time, she has been ruling the hearts of millions!
Women Fitness India gets into a candid conversation with Ridhema Tiwari On Acting, Fitness, and More.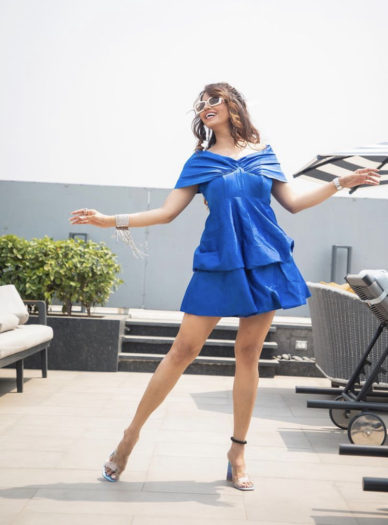 Ms. Namita Nayyar:
Ridheema, you have been in the industry for almost a decade, tell us about your journey and how did you decide to be an actor?
Ms. Ridheema Tiwari
Acting is such a difficult profession to break into and a few who attempt to do it actually succeed However I stumbled onto this career path accidentally during my Bank Job days. Being an English graduate, I was pursuing Mass communication as journalism was on my mind first. The scope to express myself and the thrill at work attracted me a lot. Ironically for some reason I accidentally chose to be a Banker then. Interestingly "a series of coincidences" landed me in showbiz. Today I call it all a GODS PLAN. I realized much later though that this is my ultimate calling. And yes, I never take this gift for granted. Not even for a second.
Art is who we are and what we do with it when we get a pedestal. Art isn't a result; it's a journey. The challenges that were thrown at me, I dealt with all of them mindfully with a strong heart and a lot of patience. I did everything that resonated with me at that time also welcomed every opportunity as a blessing and to date love to learn everything about the craft. I have been fortunate to have worked with some of the most respectable names. And learned the most on the sets – observing and listening to everything and everyone around closely. Most of it was useful all along. Even the bullying harassing, ragging, an etc bit too. Yes, I was bullied on the sets by a few nasty ones who I am extremely grateful to, today for making me a stronger and a better actor/person.
Then there were these dim days with no job in hand. I invested that time in acting workshops and activities that fine-tuned me as an actor/person. With an experience of 12 years now I have consistently been working on myself, and repeatedly grounded myself in so many situations, amidst all the failures, rough patches, and happy wins as an actor. I have found my sanity in prioritizing/balancing ambition, creative satisfaction financial stability & peace of mind.
Success word is overrated and burdensome. I focus on goals and outcomes every day. Collectively my journey as an actor may be a success story for a few. But for me, success is being truly happy contended with work and family life, and how loved I am as an actor and as a human. And that I have been receiving in abundance. Thank God I am a consistently working actor. I believe that the ultimate purpose is to find a journey that should be worthy of your heart and your soul. And I am living just that.
FULL INTERVIEW ON THE NEXT PAGE!
This interview is exclusive and taken by Namita Nayyar, President of womenfitness.org, and should not be reproduced, copied, or hosted in part or full anywhere without express permission.
All Written Content Copyright © 2023 Women Fitness Org