The festival of Diwali is here and all of you must be ready to strike a pose. With all the shopping done and dresses decided along with accessories, footwear, make-up in line. Make this Diwali memorable with your own style statement.
In case you are confused about what to wear, here we have last-minute tips for you.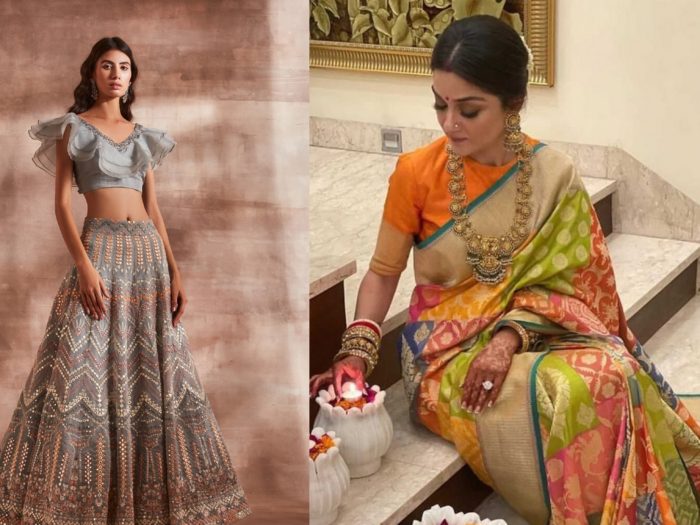 Wear attire that brings an abundance of wealth into your life. It's precisely the day when you can get glorious with brocade, and shimmering zari weaves over hand-woven silk sarees. The majestic feel of exquisitely embellished Anarkali suits, shararas, and lighter variants of the Indian lehenga work as equally opulent choices! And well, colors play an important role here! Adorn the positive vibe with bright tones of yellow, orange, green, royal blue- plenty of palettes to explore; except the classic black!
Your fusion look cannot get completed without the accessories. One can make a bold style statement if you are wearing a plain silk kurta. You can draw attention to the face with statement necklaces or statement earrings to lift up the mood. Go for necklace and bangles on saree and style jhumka and nose ring with salwar suit. Try to accessorize kurti with bracelet and payal and gown with maang tikka and rings. Skirt and crop is a fusion outfit thus go for a haath phool and stud earrings. Bindi will go with any ethnic wear gracefully.
You will be a lot on your feet, dancing and walking all night around. Thus, choose footwear that is comfortable yet stylish. Flats are the most comfortable of all and you can choose one that has embellishments and stones on them for that festive vibe. If you want to wear heels, make sure that they are not too high. Wedges are the best. This will give your height that boosts without making you trippy.
If you are going to a theme party, then it is better to prepare your ensemble keeping that theme in mind. If the party is more about dancing drinking and having a fun time, then fusion outfits are perfect. But if it is more about the rituals, Pooja, etc. then it is better to wear something which is more traditional like a saree or an Anarkali. Avoid wearing light colours as would get difficult to get rid of the stains if you accidentally spill something on yourself.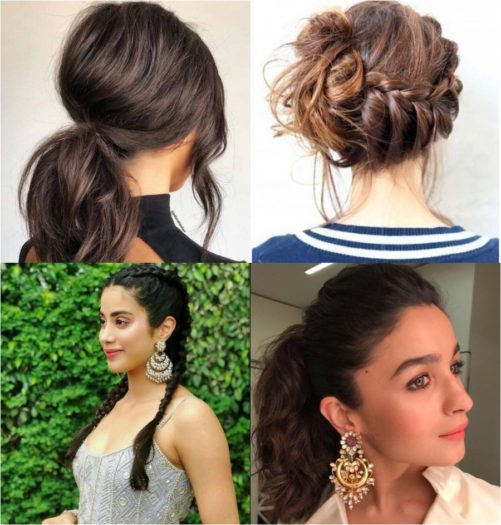 A hairstyle can add to your style For Diwali. You can choose from- Half Updo-possibly the most gorgeous hairstyle, Open Hair Hairstyle-Side Swept Curly Bangs is the stylish and elegant Open Hair Hairstyle as it looks amazing with any outfit for any occasion, Updos. Buns are timeless and amazingly popular amongst women. When you are in rush but want to look best it is one of the best hairstyles to go for. Updo goes well with any outfit for any occasion. It will make you stand out in the crown.
Right, make-up is completely essential to finish the get-up. Red lipstick is a true power move. Nudes and pinks work well when you're wearing a heavy outfit, but a red lip will guarantee head turns. Whether you're layering on a shimmer to highlight your cheekbones or swiping on a glittery lip gloss, highlighting, strobing and illuminating are all fair game during Diwali. You can even try a geometric liner shape to frame the eyes without overwhelming the rest of the look.
Have a Memorable Happy Diwali.