Tandoori Paneer skewers with yogurt-cucumber salad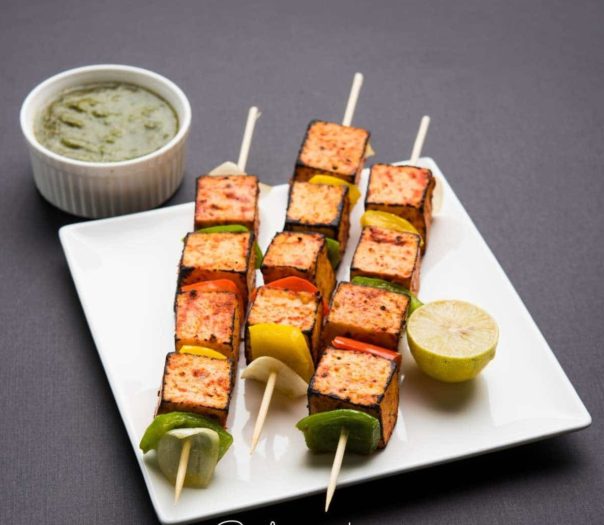 Ingredients
2 x 225g blocks paneer, cut into 3cm cubes
3cm piece ginger, grated
3 tbsp tandoori paste
6 tbsp natural yogurt
2 tbsp olive oil, plus a drizzle
2 red peppers cut into 4cm chunks
2 red onions cut into 4cm chunks
For the cucumber salad
2 tsp cumin seeds
1 red onion, finely diced
Juice 1 lemon
Small garlic clove, crushed
2 cucumbers, thinly sliced
Small bunch mint, leaves finely chopped (reserve a few whole leaves to serve, if you like)
200g natural yogurt
Method
Prepare the barbecue for direct heat (for cooking right over the coals; or see alternative cooking instructions above). For the salad, lightly toast the cumin seeds in a dry pan (about 1 minute). Crush in a pestle and mortar, then mix with the onion, lemon juice, garlic, and a pinch of salt. Set aside for 15 minutes to quick-pickle, then stir in the sliced cucumbers, mint, and yogurt.
Meanwhile, mix the paneer, ginger, tandoori paste, yogurt, oil, and peppers in a bowl with a pinch of salt, ensuring the paneer and peppers are well coated. Thread the paneer, peppers, and onions onto skewers, alternating. Drizzle with a little oil, and then cook with the BBQ lid down, turning once or twice until the veg are tender and the paneer is a little charred – about 10 minutes.
Serve the skewers with the cucumber salad.
Grilled Cauliflower Steaks
Ingredients
2 medium heads of cauliflower
⅓ cup olive oil
4 cloves garlic chopped
1 tsp. onion flakes
½ tsp. red chili pepper flakes
½ tsp. dried parsley
Salt to taste*
Method
In a medium bowl combine olive oil, garlic, onion flakes, red chili pepper flakes, and dried parsley.
Remove outer green leaves from the cauliflower and then slice into ½-inch slices.
Brush both sides with olive oil mixture. Then sprinkle with salt.
Place on grill and cook about 10-12 minutes per side.