Grilled Paneer with Pineapple steaks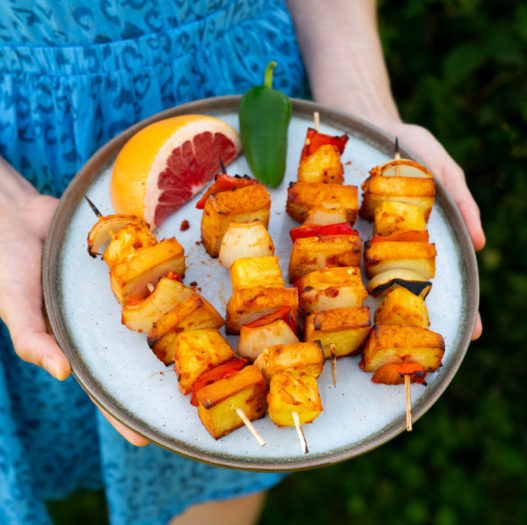 Ingredients
300 grams Paneer (Homemade Cottage Cheese), Homemade Cottage Cheese, cut into cubes, about 1-½ inch in size
1 Pineapple, cut into triangles
1 Red Bell pepper (Capsicum), cut into triangles
Oil, for tossing
Marinade
1 cup Hung Curd (Greek Yogurt)
3 tablespoons Gram flour (besan)
3 cloves Garlic, ground to paste
1 inch Ginger, ground to paste
1 tablespoon Kasuri Methi (Dried Fenugreek Leaves)
1 teaspoon Fennel seeds (Saunf), roasted ground to powder
1/2 teaspoon Ajwain (Carom seeds)
1/2 teaspoon Cumin powder (Jeera)
1/2 teaspoon Coriander Powder (Dhania)
3/4 teaspoon Black pepper powder
3/4 teaspoon Turmeric powder (Haldi)
1 teaspoon Red Chilli powder
2 teaspoon Garam masala powder
1/4 teaspoon Black Salt (Kala Namak)
Salt, to taste
Method
To begin with, in the Recipe, combine the yogurt and gram flour making a smooth paste. Using a pestle and mortar, pound the ginger, garlic, and Kasuri methi leaves to make a coarse paste.
Add in the fennel seeds and ajwain and pound until blended. Add this to the yogurt mixture. Add the remaining marinade ingredients into the yogurt mixture and stir to combine well.
Place the paneer cubes, pineapple & bell peppers in a large bowl, add in the marinade and allow it to rest for about half an hour to one hour or even overnight.
Take a skewer and add paneer cubes, pineapple, and bell peppers, and line it up to the top. Do the same for the rest of the skewers.
Heat a grill pan over medium heat, add a little oil and place a few marinated paneer skewers along with a little of the marinade on top.
Add a spoon of ghee or oil to the coal. It will begin to smoke a little, reduce the heat to low, and let it sit for about a minute on each side. Keep turning and cook evenly on all the sides till it is charred. Cook the skewer for at least 10 minutes and serve hot.
Serve the Grilled Paneer with Pineapple steaks
Grilled Tofu Steak with Mushrooms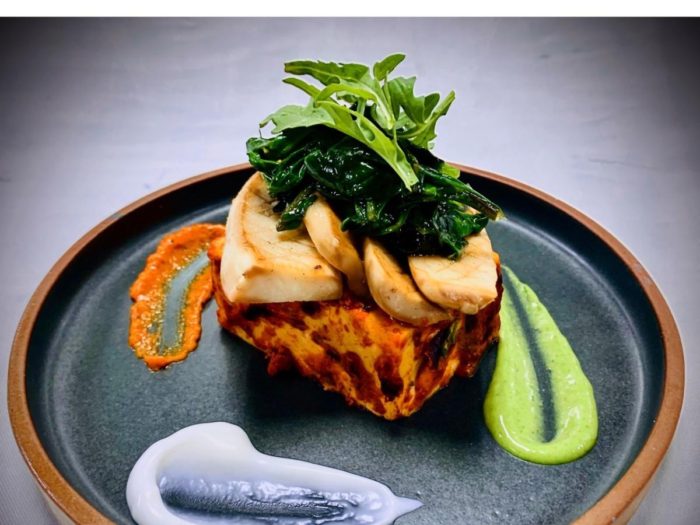 Ingredients
1 tbsp Tamarind Sauce
1 tbsp Cider Vinegar
1 tbsp Vegetable Oil
1 Tbsp. Chopped Garlic
½ Tbsp. Cornstarch
2 Tbsp. Water
100g Tofu, Extra Firm
5g mushrooms, sliced or quartered
Dash of Salt
Dash Freshly Ground Pepper
Method
1. Combine tamarind, vinegar, oil, and garlic in a bowl.
2. Cut tofu into 4 cubes—place in the marinade for 30 minutes.
3. Make sure tofu is at room temperature. Grill steaks until well-marked. Reserve to marinade. 4. Sauté mushrooms in oil. Season with salt and pepper.
5. Bring marinade to simmer. Mix corn starch and water and whisk in. Simmer for one minute and remove from heat.
6. Place tofu steak(s) on a plate or platter and top with mushrooms.