Check out these inspiring makeup looks for your Diwali.
The Wet Look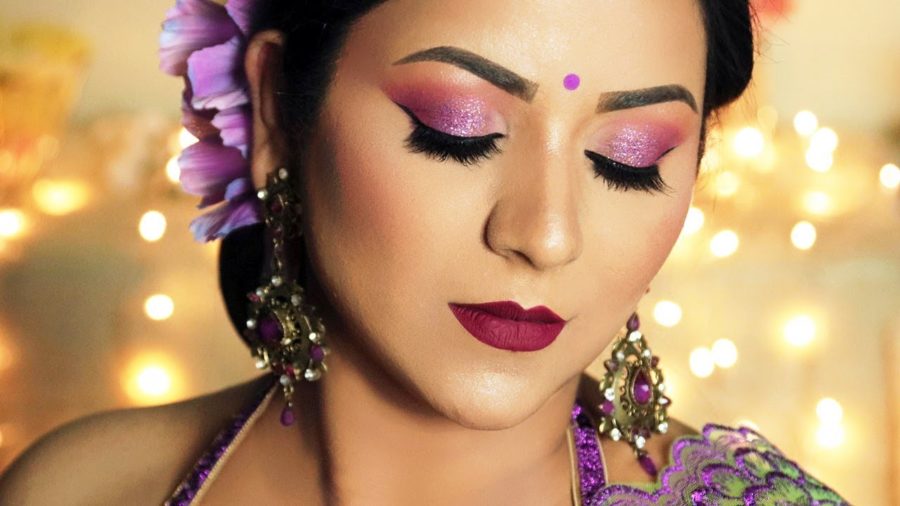 You can rock any Diwali costume with this dramatic but understated style. This look will be easier to pull off during a Diwali celebration at night.
Prepare your face first, and then proceed with the eye makeup. A metallic eyeshadow palette is required for this look, which you can get at Lakme. There are colors, both shiny and matte. Copper, brown, and maroon hues are employed. The inside side should be copper, the outside should be brown, and the final crease line should add maroon. Well-done blending with a brush is required.
Choose a bold red lip color and winged eyeliner. Apply foundation, cover defects, and then set the base with hydra-mist powder. Draw attention to the collarbones, chin, nose, forehead, and cheekbones. With the makeup fixer, keep the Diwali makeup look in place.
The Glam Look
This appearance is ideal festivity. Dress in a silk saree and wear simple jewelry for a simple Diwali look. Opt for the accentuated eyeshadow look when it comes to makeup. Apply moisturizer and primer to your face. If you want a simple makeup look with a saree, this one is perfect for you.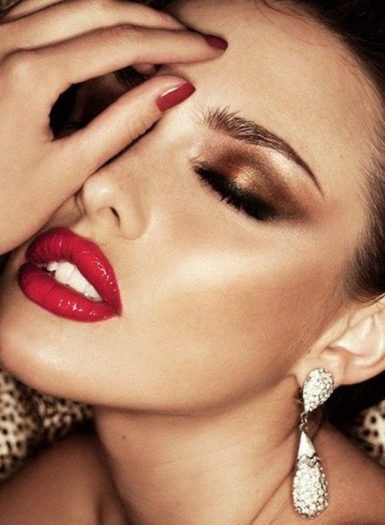 Start with the eyeshadow. Apply nude shade all over the eyelid after using concealer to make the foundation clean. Make a stroke on the eyelid with the bronze color, then smoothly blend it with the brush. Make careful you draw a lower crease line than the real one to improve the appearance of the eyeshadow while the eyes are open.
Holiday Makeup Look
If there is a Diwali celebration at work, check this out. Use little makeup, then do as they do. Shape your brows after priming your face, then begin applying eye makeup. You can use Lakme 9 to 5 lipstick for a simple look.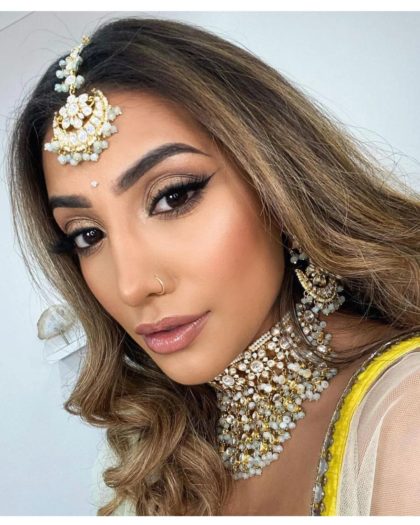 The eye makeup applied here is simple to get, and fewer beauty items are also employed. Apply your moisturizer and primer first, then your eye makeup. After that, apply the coral lipstick and flush your cheeks.
Dramatic Diwali Makeup Look
This beauty look is a little challenging, but you can pull it off beautifully with the right tools and palettes. The face is perfectly contoured with a matte finish foundation, gold highlighter, and bronzer. Use concealer to lay on a foundation first, then choose the deeper brown color till the crease. Use Lakme Absolute Infinity Eyeshadow Pallete.
Above the crease line, apply a green or crimson hue and mix it well. Then, to get that dramatic appearance, add gold eyeshadow. Make sure your brows are shaped with a brow pencil before you continue with eyeshadow. Apply the liquid lipstick in the nude shade to finish the look.
Sparkly Holiday Makeup Look

The secret to going big with your makeup is to use a lot of eyeshadow. This particular makeup style is the appropriate festive makeup looks. Everything screams Indian festival vibes, from the sparkly eyeshadow to the dark lipstick.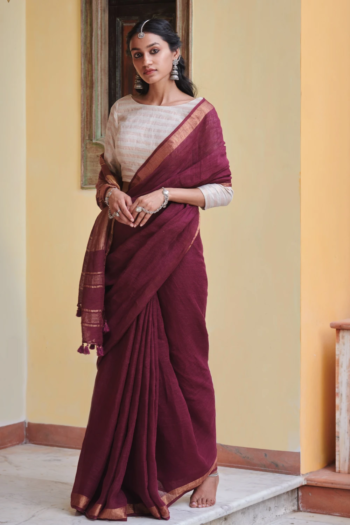 The wine-colored lipstick and understated facial cosmetics enhance the silver or gold eyeshadow to the best effect. When applying this eyeshadow, creating a division with a crease line is the most crucial step to remember.
On the top crease, you can see the various tones; below that, you can see a combination of silver and burgundy eyeshadow. The eyeliner with wings and the nicely arched brows are like the icing on the cake.
The Daring Pout
A traditional bold pout is the ultimate confidence builder. Regardless of your stance on nude lipsticks, nothing can ever match the impact of a full red pout. Your bland makeup is suddenly given alive by the sultry lips.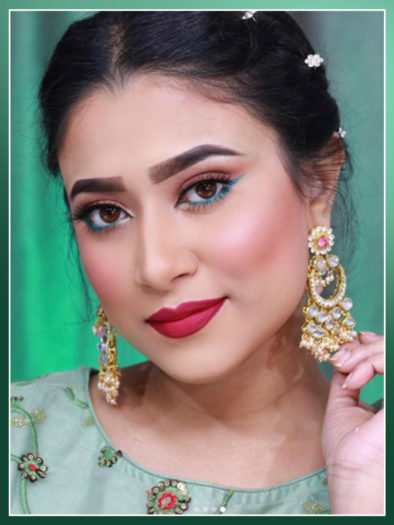 Add foxy eye makeup or a subtly smudged look for the intense stare required with this lip. Wear bold red lipstick and hydrate your lips with a nourishing lip balm to garner praise all day!
The Neon Look
Neon has tremendous power. This year's Diwali makeup looks may make to stand out with vivid, fluorescent eyes. The slightest dab of slime green or explosive yellow neon eyeshadow will undoubtedly add fire to your Diwali-specific makeup.
Rule-Blending Eyeshadow Apply the neon-yellow shade with a tiny brush from the inner corner of your eyes to the center of your lids, using the palette as a transition shade all over your lids.
Stay Monochrome
The look is easy to achieve and adds the perfect amount of shimmer for Diwali. Using the same hue on your cheeks, lips, and eyes while wearing vibrant, daring clothing will leave you speechless.
Keep your face fresh and apply plenty of blush.
Maintain the monotone theme by matching the color of your lips and eyes.
Glittering Copper Eye Makeup Look
While colored eyelids are ideal for the holiday season, elevate your eyes further with shiny gilded makeup this year. Put some drama into your everyday Diwali makeup look by slaying it. The warm, summery color will stand out when paired with stunning white attire.

Dramatize your eyes to make them stand out from the rest of your look. Try out this intensified black kohl, winged liner look with a nude lip and turn heads wherever you go.
Blend Eye color along your lid and up into your crease for a soft smoky copper eye. Use a cream eyeshadow as a foundation to obtain the most pleasing color payoff and maintain the shine all night. The copper eye is suitable for a simple saree makeup look.
Dramatic Lash up Makeup Look
Think over if you need thick, dramatic lashes. Long lashes packed with waterproof mascara will complete the desired looks. To create wider, fuller, and amplified lashes, use SUGAR Lash of The Titans Volumizing Mascara.
The lightweight product sets and dries swiftly, allowing you to immediately go on to your next layer of makeup. Again, to carry a simple makeup look with a saree, this one is the best. To obtain flawless lashes every time, don't forget the curler. Try out this easy Diwali makeup directly!
Happy Diwali!