3. Pomegranate Boondi Raitha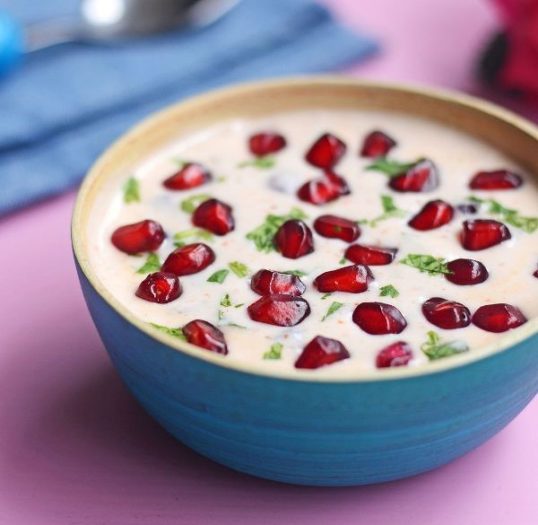 Ingredients:
3/4 cup Boondi
3/4 cup Pomegranate arils
1 cup Yogurt
1 tsp Roasted cumin powder
1/2 tsp Chili powder
1/4 tsp Chaat masala
Salt
Instructions:
Whisk the yogurt till smooth. Add water if the yogurt is too thick.
Add the cumin powder, chili powder and chaat masala along with salt to taste. Whisk again.
Add in the pomegranate and boondi and stir till well mixed.
4. Gopalkala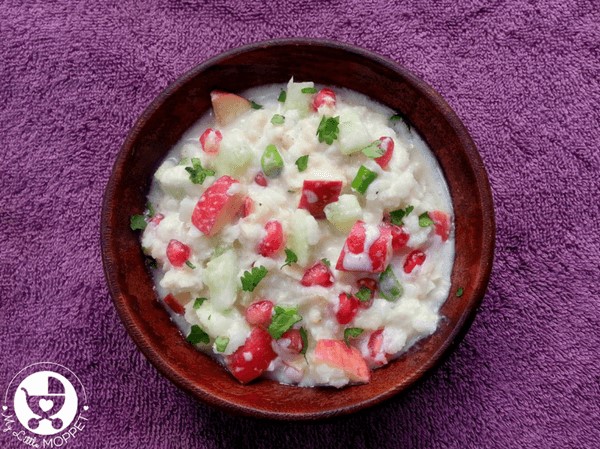 Ingredients:
½ cup Brown Rice Flakes
½ cup Curd
¼ cup Cucumber, chopped
¼ cup Apple chunks
¼ cup Pomegranate seeds
1 green Chilly, finely chopped
1 tbsp Coriander leaves, finely chopped
1 tbsp Sugar
Salt to taste
Instructions:
Soak the brown rice flakes in water with a pinch of salt for 1-2 minutes.
Drain the flakes and soak them again in a little water (⅛ cup or less) clean water for 10 minutes. The rice flakes will absorb all the water and become soft. Drain again
Add the curd all at once and mix well to blend the curd with the flakes.
Add salt and sugar and mix it thoroughly so that it's evenly distributed throughout the curd-poha mix.
Add the chopped chillies, cucumber, apple and pomegranate seeds. Mix well and you are done.
Garnish with coriander leaves and serve immediately.
5. Papdi Chaat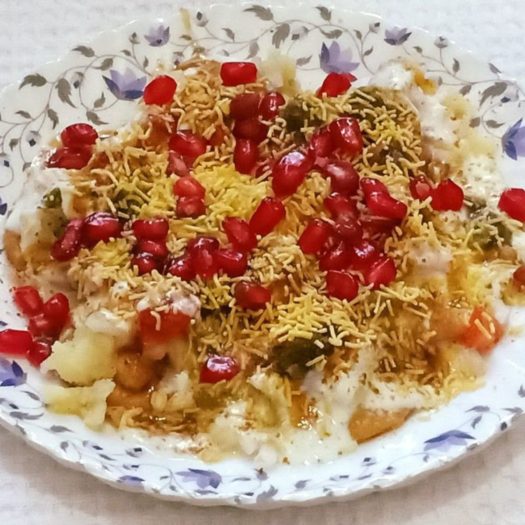 Ingredients:
14 pcs Homemade Papdi
1 cup Homemade curd
2 Potatoes, boiled and mashed with salt and black pepper powder
½ cup Mung sprouts (steamed)
½ cup Pomegranate arils
1 small Onion, finely chopped
1 Tomato, finely chopped
1 bunch Coriander leaves
¼ cup Sev (optional)
¼ cup Soriander mint chutney
¼ cup Dates tamarind chutney
Salt to taste
Black pepper powder to taste
Chaat masala to taste (optional)
Instructions:
Whisk the curd till creamy. You may add a little chaat masala or salt and sugar.
Mix the chopped onion, tomato and cilantro in a bowl and season with a little salt.
Take 2 serving plates and arrange 7 crackers/ papdi on each plate.
Add a teaspoon of potato on each papdi, followed by 1 teaspoon of steamed mung bean sprouts and 1 teaspoon of onion tomato coriander mix.
Add 1-2 teaspoon of whisked curd to each papdi. Top it with both chutneys as per taste.
Finally, add sev and pomegranate arils and serve immediately.