Thanksgiving is the start of the festive season that ends with the welcoming of the New Year and therefore deserves to be special and well thought-of. To make things slightly easy for you, WF India brings to you an all-Indian menu for a wholesome Thanksgiving feast!
Starters first!
1. Indian Stuffed Mushrooms By Chef Priyanka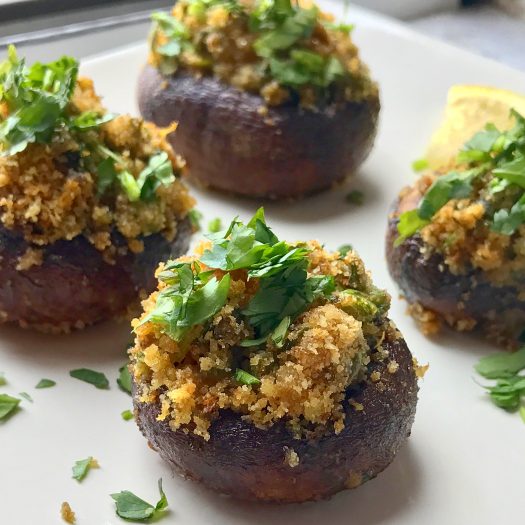 1 10oz package of baby portobella mushrooms – cleaned and stems removed
mushroom stems – minced
3 scallions – thinly sliced until the white part
1 clove garlic – minced
1 jalapeño – minced (seeds and all!)
1 tsp cumin seeds
1 tsp coriander seeds
1 tsp lemon zest
lemon juice from a 1/4 of a lemon
1/4 cup plain breadcrumbs
salt
black pepper
chopped fresh coriander
olive oil
PAM Olive Oil Spray
1. Preheat oven 350 degrees.
2. In a medium non-stick skill, spray with PAM and drizzle a bit on olive oil.
3. While the pan is heating up, muddle together the coriander and cumin seeds until finely blended and crushed.
4. Add the garlic, jalapeños, mushroom stems, and scallions with coriander-cumin mixture to the hot oil. Saute for a few minutes until fragrant, then add in the lemon zest and bread crumbs. Continue sautéing until bread crumbs become turning golden brown. Add in the lemon juice, salt and pepper. Taste for seasoning. Remove form the heat, and mix in about 1 tbsp of the fresh chopped coriander.
5. Oil the mushrooms and sprinkle with a but of cumin powder and lemon zest. Please on a foil lined cookie sheet, and generously stuff each one with the filled until the top and a little over. Drizzle each with olive oil. Bake for about 10-15 minutes, until mushrooms are fork tender and filling is browned.
6. Remove, garnish with a spritz of lemon juice and fresh chopped coriander.
2. Spiced Butternut Squash & Dill Soup By the ABCD's of Cooking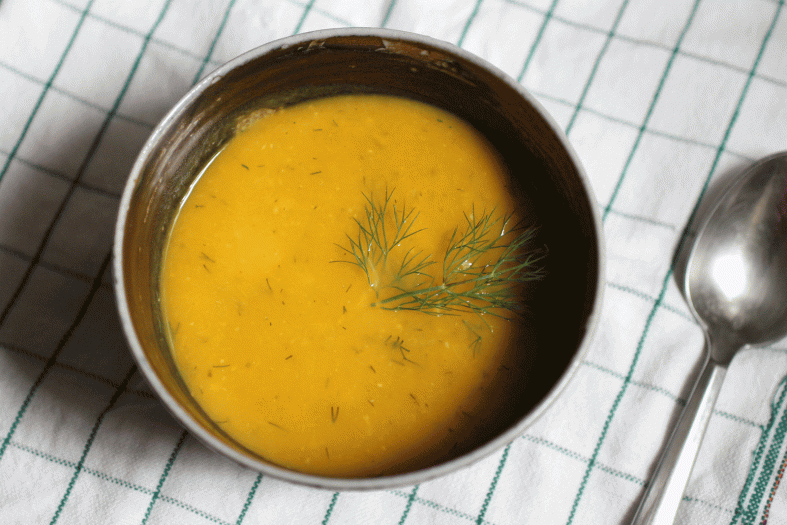 1 butternut squash, roasted
2 tablespoon ghee or oil
2 leeks, chopped
2 garlic cloves, minced
1 inch ginger, grated
2 green chilis or 1 jalapeño, chopped
1 1/2 teaspoon cumin powder
1/3 teaspoon turmeric
1 1/2 teaspoon coriander powder
6 cups water
2 tablespoons dill, chopped
salt to taste
2 teaspoons lemon juice
serve with dollop of yogurt (optional)
To roast the squash: Preheat oven to 400 degrees fahrenheit. Cut butternut squash in half and remove the seeds and stringy stuff. Coat the squash with about 1-2 tablespoons of vegetable or canola oil and put them face down on a baking sheet. Cook the squash for about 25-30 minutes, or until they are soft to the touch.
Scoop out the inside of the squash and set aside.
In a pot, heat 2 tablespoons of ghee or oil under medium-high heat. When hot, add in the leeks and fry until translucent and fragrant. Turn the heat to medium and stir the garlic, ginger and green chills in for 30 seconds.
Add in the cumin powder, turmeric, coriander powder and mix well. Immediately add in the butternut squash and stir well. Next add in the water and salt and stir again. Bring to a boil and then simmer for 15-20 minutes. Turn off the heat.
Using an immersion blender or a regular blender, puree the soup. Mix in the dill, lemon juice and salt to your taste.
You can serve with a dollop of yogurt on the top.
Main Course, next.
1. Stir-Fried Corn w/ Basil & Leeks By the ABCD's of Cooking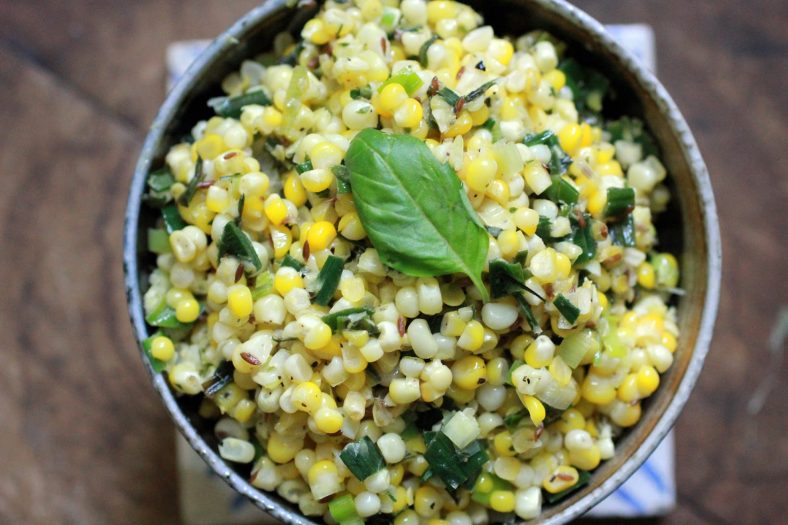 4 corn cobs, kernels shaved off cob (2 cups)
2 tablespoons ghee or vegetable oil
1/2 teaspoon cumin seeds
1 leek, white & green parts chopped small
1/2 teaspoon fresh ground black pepper
2 tablespoons basil, chopped
juice of half a lemon
salt to taste
Easy method to shave corn off cob: just stand it upright and run your knife as close to the cob as you can get. The kernels will just come right off.
Heat ghee or oil under medium-high heat in a frying pan. Add in cumin seeds.
When the seeds start to brown, turn the heat to medium and add in the leeks.
Cook the leaks for about 3-5 minutes, until they are cooked down. Mix in the black pepper.
At this point, add in the corn kernels and salt to taste. Fry the corn for a few minutes (doesn't take long to cook). Turn the heat off. Squeeze lemon and mix in the chopped basil. Add salt to taste.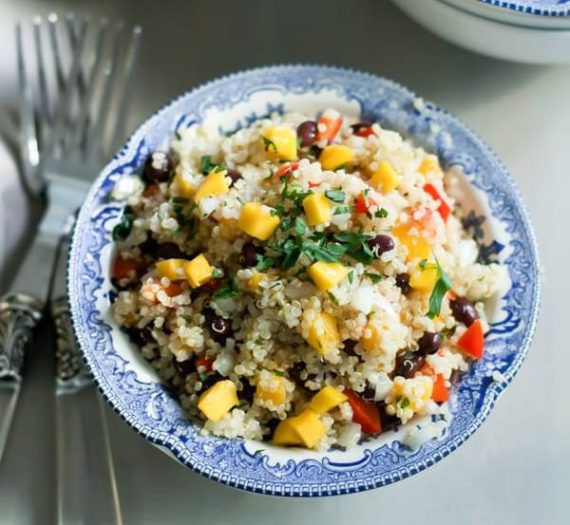 2 cups quinoa — cooked
1/2 cup red bell pepper
1 1/2 cups black beans — drained
1 cup mango — diced
salt and ground black pepper
1/4 cup homemade vinaigrette
Parsley for garnishing
Place the cooked quinoa in a large bowl and add bell pepper, black beans, mango, salt and ground black pepper.
Pour the homemade vinaigrette dressing over the quinoa salad and stir to combine.
Garnish with parsley before serving.
This salad is good served at room temperature or chilled.
Enjoy!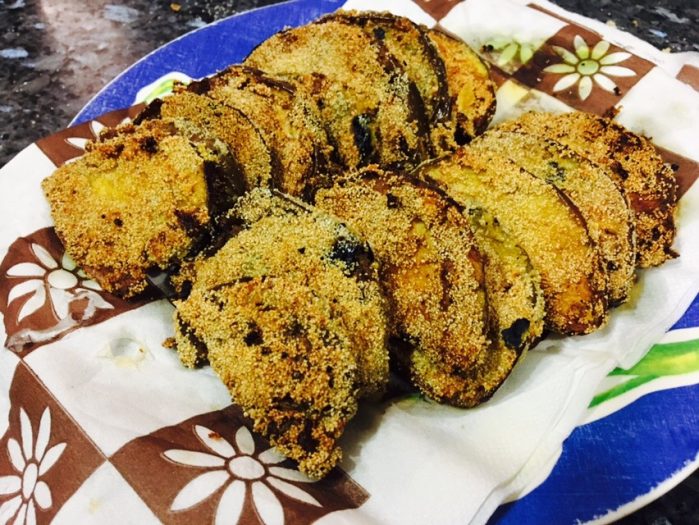 1 tbsp kashmiri red chilli powder / lal mirch powder
½ tsp turmeric / haldi
pinch of hing / asafoetida
2 tbsp besan / gram flour
½ tsp salt
2 tbsp water
1 brinjal / baingan / eggplant, thickly sliced
oil for deep frying
For rava coating:
¼ cup rava / semolina / sooji
½ tsp kashmiri red chilli powder / lal mirch powder
¼ tsp salt
Firstly, in a large mixing bowl take 1 tbsp chilli powder, ½ tsp turmeric, pinch of hing, 2 tbsp gram flour and ½ tsp salt.
combine well making sure the spices are mixed.
now add 2 tbsp water and prepare a masala paste.
add in 1 brinjal thickly slices and coat with masala paste.
coat well and rest for 20 minutes.
meanwhile prepare rava mixture by mixing ¼ cup rava, ½ tsp chilli powder and ¼ tsp salt.
now coat the marinated baingan with rava on both sides.
shallow fry or pan fry in hot oil.
fry on low flame making sure to cook well.
now flip over and cook brinjal on both the sides. do not over cook as then brinjal will loose shape.
finally, serve brinjal fry recipe with roomali roti.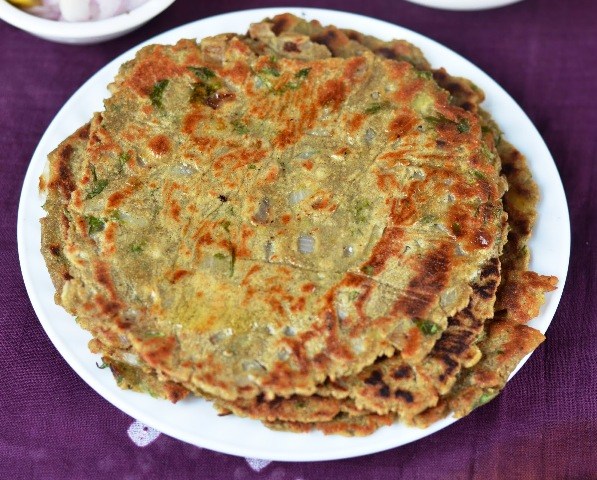 Millet flour (bajre ka atta) 1 1/4 cups
Potatoes boiled and peeled 2 medium
Salt to taste
Carom seeds (ajwain) 1 teaspoon
Coriander powder 1/2 teaspoon
Cumin powder 1/2 teaspoon
Red chilli powder 1/2 teaspoon
Mix bajra atta, salt, carom seeds, coriander powder, cumin powder and red chillii powder in a bowl.
Grate potatoes into it. Add enough hot water and knead into a medium soft dough.
Heat a non stick tawa. Divide the dough into equal portions and roll into balls.
Flatten them and spread into small thick rotis.
Place them on the tawa and cook on medium heat.
Serve hot or warm with a chutney of your choice.
Finish It With Dessert!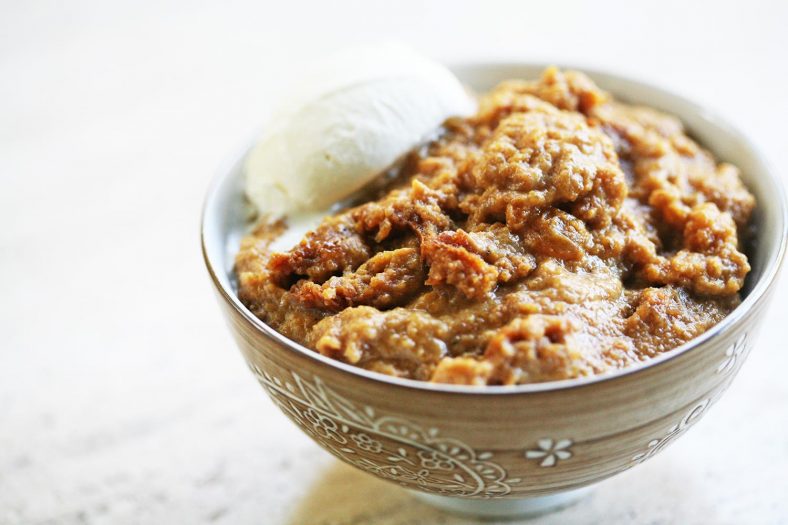 4 tbsp. unsalted butter, plus more for ramekins
5 1⁄2 cups milk
1 (2″) piece of ginger, peeled and finely chopped
1 vanilla bean, split lengthwise, seeds scraped and reserved
3⁄4 cup packed dark brown sugar
2⁄3 cup yellow cornmeal
1 tbsp. light molasses
1 tbsp. maple syrup
1 stick cinnamon, halved
Vanilla ice cream, for serving
Heat oven to 325°. Grease eight 4-oz. ramekins; set aside. Bring milk, ginger, and vanilla bean with seeds to a boil in a 4-qt. saucepan over high heat; remove from heat and let steep for 10 minutes. Pour through a fine strainer into a bowl; discard ginger and vanilla bean. Return milk to saucepan and add sugar, cornmeal, molasses, syrup, and cinnamon; bring to a boil over medium heat, and cook, stirring often, until mixture thickens slightly, about 15 minutes. Whisk in butter, and remove from heat; discard cinnamon.
Pour mixture evenly among ramekins, and place ramekins on a baking sheet. Bake until golden brown and the center jiggles slightly when the ramekins are tapped, about one hour. Let cool for 10 minutes, and then top with a scoop of ice cream to serve.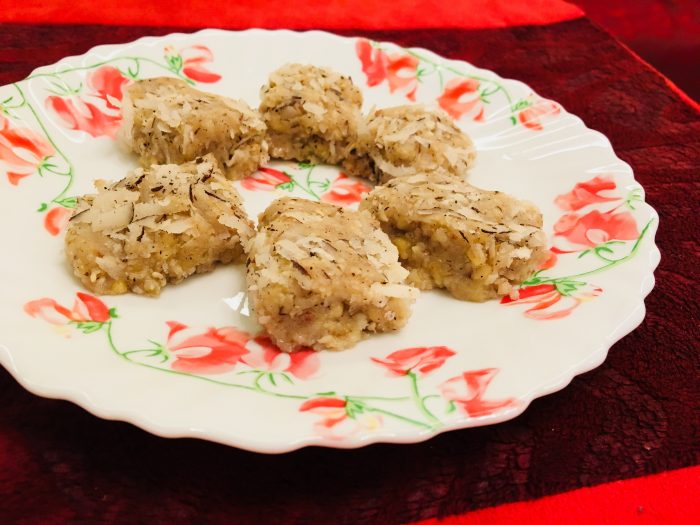 1 1/2 cups crumbled khoya
1/2 cup sugar
1/2 cup chopped nuts (walnuts, almonds, pistachios and cashews)
1/4 tsp cardamom powder
a pinch of nutmeg powder
Combine the khoya and sugar in a deep non-stick kadhai, mix well and cook on a medium flame for 10-15 minutes, while stirring occasionally.
Switch off the flame, add the chopped nuts, cardamom powder and nutmeg powder and mix well. You can also grind the nuts in a grinder but make sure it does not turn into a powder.
Transfer the mixture into a greased plate and keep aside to cool for 20 minutes.
Cut into pieces and serve immediately.