One of India's fastest ice skater, Shruti Kotwal, shares her incredible journey from swivelling through the streets with skateboards or roller skates to becoming a national record holder.
In 2014 she broke the national record she had previously set herself in the 500 metre speed skating event. She went on to represent India at the Asian Winter Gamesin 2017. She holds 5 gold medals from the Indian National Ice-Skating Championships and a bronze medal from the National Winter Games.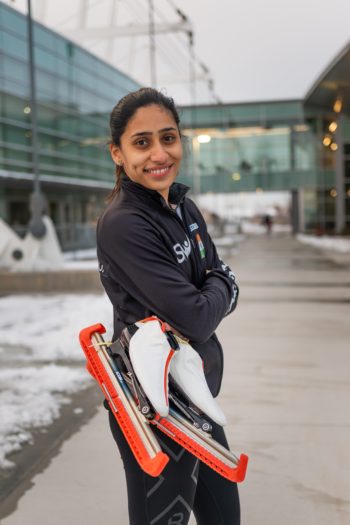 Here we have for you Shruti Kotwal, the first Indian Ice Speed Skater in conversation with Namita Nayyar, President Women Fitness sharing her inspiring journey in sports.
Namita Nayyar
You began roller skating at seven, won gold medals at national level and then switched to become an India's best ice speed skater? Share the series of events that led to the same.
Shruti Kotwal
My journey began with roller skating at the age of seven as a hobby. I learnt and practiced roller skating back in Pune, my hometown.
Being a national level gold medal winner at roller skating for several years, I decided to give ice-skating a shot, owing to fewer opportunities in roller skating. I started in Shimla inside a small ice-skating rink which hosts a national camp and a national competition every year. It was an upcoming sport and the fact that it is an Olympic sport and globally recognised, attracted me more towards it.
Gradually, I was fascinated by the explosivity, and agility needed for the sprinters coupled with strength and endurance in speed skating. But of course, I had to learn the technique for the new sport.