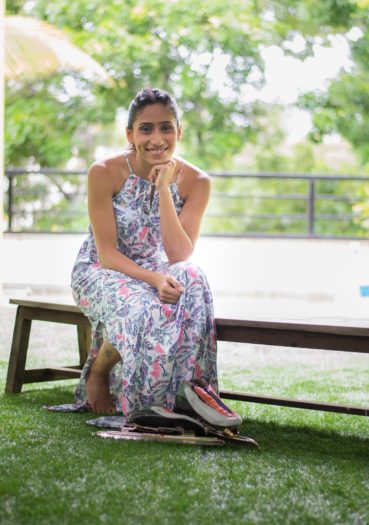 Namita Nayyar
Your daily skin care & hair care routine?
Shruti Kotwal
This is a tough question for me because honestly, I do not have any hair and skin care routine at all. I am a very spontaneous person and just moisturize my skin every day and wash my hair 2-3 times a week. I am not the best person to ask this question or get any inspiration from.
Namita Nayyar
Your next big goal is to qualify for the speed skating World Cup next year and represent India at the Winter Olympics 2022. Throw some light on it? How is your preparation progressing?
Shruti Kotwal
My next big goal or you can call it my next target- to qualify for the Skating World Cup next year. And to do that, one needs to achieve the given distance in a provided time at the qualifiers. If I can meet the time standards, I will be the first Indian to do so.
Had there been a better infrastructure for Ice Skating in India at that time, I would have been able to meet my targets sooner and have the Olympics as my goal and wouldn't have gone through all these struggles. More importantly, I have met all my requirements in all the countries so far wearing all the travel and training cost from my own pocket.
We often buy artefacts just by looking at its beauty, failing to recognise the efforts put in by the artist. Similarly, in India, you need to prove your mettle for attracting sponsors. But what one needs to understand is that success needs support and the right resources before reaching for glory.
There exist many such Shruti Kotwals, and we sit back and wonder why India is not so dominant in the Olympics. The answer probably lies somewhere in this story.